Spiced Leek, Potato and Lentil Soup
Serves: 4
Ready in: 15 to 30 mins
Cost Cutting Eco Friendly Freezes Well Gluten Free‏ Quick Make
Know your nutrients
The classic leek and potato soup gets a reworking with spices to add flavour and lentils to add bulk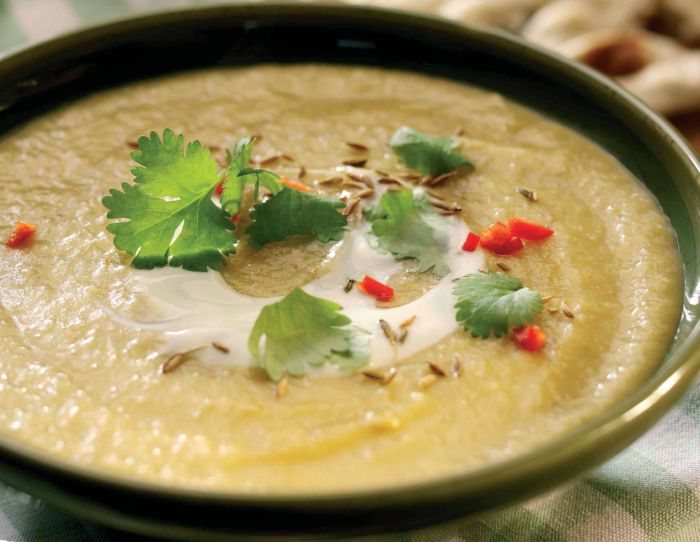 Ingredients:
1 tbsp cumin seeds
40g butter
4 medium leeks, trimmed and sliced
thumb-sized piece of fresh root ginger, peeled then grated
handful fresh coriander, stalks finely chopped
1 fat red chilli, deseeded and finely chopped
1 large Maris Piper or King Edward potato (250g), peeled and thinly sliced
175g split red lentils
1 litre gluten-free vegetable stock
300ml semi-skimmed milk
4 tbsp half-fat crème fraîche or creamy yoghurt, to serve
method:
Put a large saucepan over a medium heat then add the cumin seeds. Cook for two minutes, or until toasty and fragrant. Set ½ tsp of the toasted cumin seeds aside for later.
Add the butter to the pan, let it melt and sizzle around the cumin, then stir in the leeks, ginger, coriander stalks and most of the chilli. Cover and let the flavours sweat together for five minutes.
Stir in the potato and lentils, then the hot vegetable stock and milk. Bring to a boil then simmer for around 15 minutes, or until the lentils are lovely and soft.
Blitz the soup in the saucepan using a stick blender or mix in a food processor, then season to taste with salt and pepper.
Ladle into bowls, add a swirl of crème fraîche or yoghurt, then scatter with the reserved chilli, toasted cumin and coriander leaves. Enjoy with warm naan bread.
Print Recipe
www.british-leeks.co.uk
Did you make this recipe?
Share your creations by tagging @livegreenandgood on Instagram with the hashtag #livegreenandgood