Special Vegetarian Egg Stir-fried Rice
Serves: 1
Ready in: 15 to 30 mins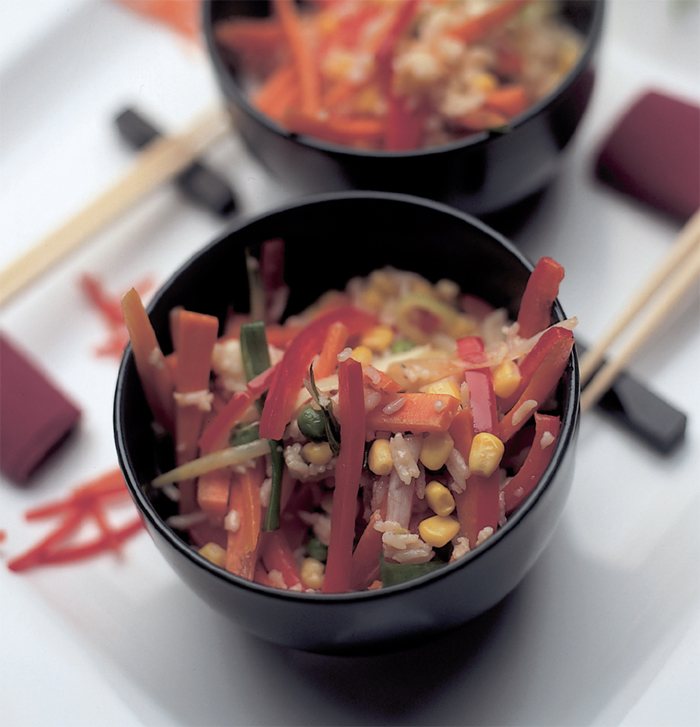 Ingredients:
1 carrot, cut into matchstick strips
55g seeded red pepper, cut into thin strips
2 spring onions, chopped
200g cooked hot rice (preferably brown rice)
55g frozen peas, thawed
55g canned sweetcorn kernels, drained
1-2 tsp chilli sauce, or to taste
freshly ground black pepper, to taste
1 egg lightly beaten
2 tsp sunflower oil
1 tsp toasted sesame seeds
method:
Heat oil in non-stick wok or frying pan over medium high heat, add carrot, red pepper and spring onions and stir-fry the vegetables for 1-2 minutes.
Add cooked rice, peas and sweetcorn and stir-fry for 3-4 minutes. Make a well in the centre of the vegetables and add the beaten egg, stir the egg until it is cooked, and amalgamate with the vegetables.
Add the chilli sauce, black pepper and toasted sesame seeds and heat for a further minute. Serve immediately.
Print Recipe
Did you make this recipe?
Share your creations by tagging @livegreenandgood on Instagram with the hashtag #livegreenandgood