Satay Tofu & Veggie Skewers
Serves: 4
Super simple to make, these vibrant tofu and veggie skewers are sure to be a crowd pleaser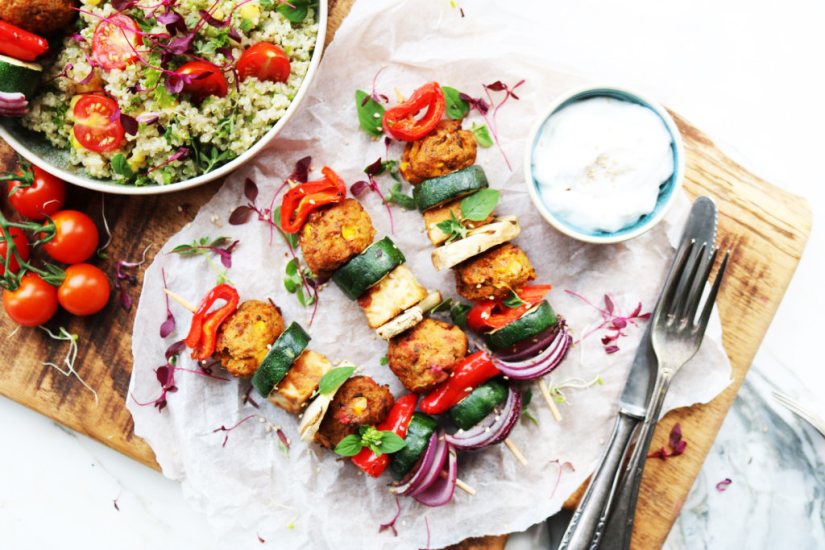 Ingredients:
12 Gosh! Sweetcorn Bites
1 pepper
2 courgettes
4-5 chestnut mushrooms
1 red onion
splash of olive oil
1 tsp dried mixed herbs
salt & pepper to taste
For the tofu:
½ block of firm tofu (about 150g)
1 tbsp miso paste
2 tbsps tamari sauce
1 tbsp sesame oil
1 tsp peanut butter
method:
Start by preparing and applying the tofu marinade (this should ideally be done the night before). Mix together the miso paste, tamari sauce, sesame oil and peanut butter. Whisk everything together well until you have a smooth sauce – if it's too thick, add a splash of water. Slice the tofu into cubes and pour the marinade on top. Cover the bowl with cling film and refrigerate overnight (or for at least an hour).
Preheat oven to 200C/ 180F/ Gas 4. Chop the red onion, courgette, pepper and mushrooms into thick slices and place in a bowl. Drizzle with olive oil and a sprinkle of dried herbs, salt and pepper. Toss the vegetables in the bowl until they are all coated.
Add the chopped vegetables, tofu pieces and Gosh bites onto BBQ skewers. If you are not using a barbecue, place the skewers onto a baking tray lined with parchment paper and cook them in the oven for 15-20 minutes until the veggies are soft and the tofu has crisped.
Print Recipe
www.goshfood.com/
Did you make this recipe?
Share your creations by tagging @livegreenandgood on Instagram with the hashtag #livegreenandgood