Sardinian Ravioli
Serves: 4
Ready in: 60 mins +
Know your nutrients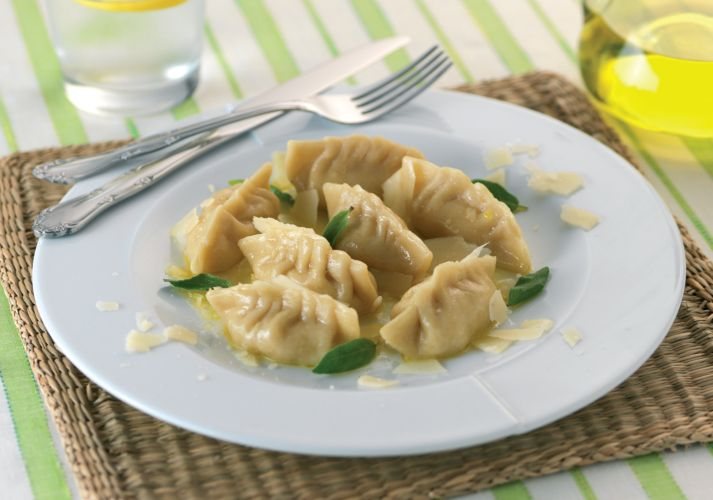 Ingredients:
[hd]For the pasta[/hd]
250g 00 flour
1 free-range egg

[hd]For the filling[/hd]
160g potatoes, cooked & mashed
60g veggie Parmesan-style cheese, grated
60g veggie Pecorino-style cheese, grated
60g veggie ricotta
2 tbsp fresh mint, finely chopped

[hd]For the sauce[/hd]
100g Bertolli Spread
8 sage leaves
10g vegetarian Parmesan-style cheese, freshly grated
method:
Make the pasta: Mix the flour, a pinch of salt, egg and 100ml water together to make a dough. Knead for 10 mins, wrap in clingfilm and place in the fridge.
To make the filling, combine all the ingredients together.
Remove the pasta from the fridge, remove the clingfilm and leave to rest for a couple of mins. Divide the dough in half and roll out each piece through a pasta machine until you obtain sheets about 3mm thick. Place on a lightly floured surface and cut out 10cm rounds with a pastry cutter. To make the culurzones, take a round in one hand, place a full teaspoon of the filling in the centre, gently fold, then pinch a fold of the dough over from the right and then left side to give a pleated effect. Work quickly as the thin pasta tends to dry out.
Bring a large pot of water to the boil, drop in the culurzones and cook for about five minutes until al dente. Meanwhile, melt the spread in a pan together with the sage and some of the pasta water. Drain the culurzones, add to the sauce coating them well. Sprinkle with cheese and serve.
Print Recipe
www.bertolli.com
Did you make this recipe?
Share your creations by tagging @livegreenandgood on Instagram with the hashtag #livegreenandgood