Rustic Squash and Bean Soup
Serves: 6
Ready in: 30 to 60 mins
Cost Cutting Eco Friendly Freezes Well
A seasonal soup, very low in fat, but high in fibre, perfect for a healthy lunch.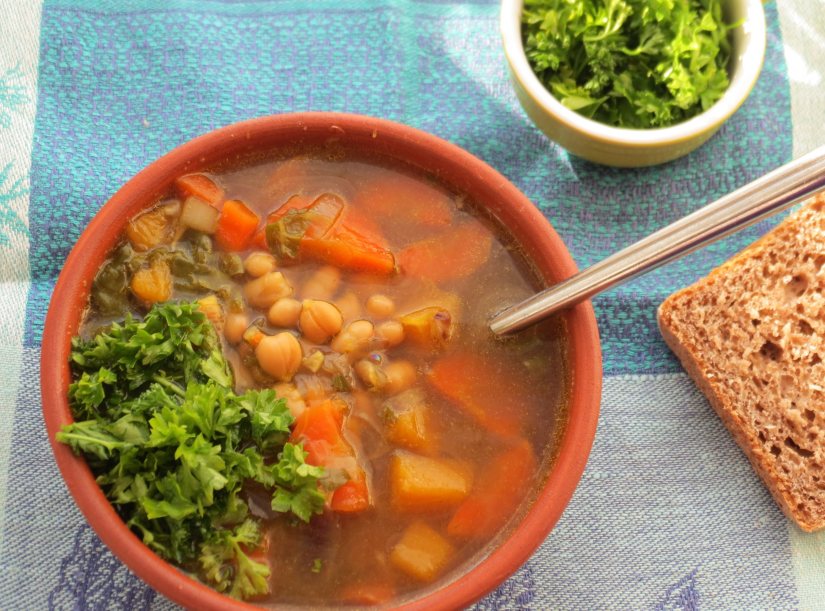 Ingredients:
1Tbsp of vegetable oil
1 onion, chopped
3 large garlic cloves, finely chopped (or grated)
1 carrot, sliced
1 small squash, diced
1/2 cup cooked chickpeas
1/2 cup cooked haricot (or any other white) bean
1 - 1 1/2 litre of vegetable stock
1 tsp of curry powder
3-4 large chard leaves, finely chopped
method:
Put a large pan on the hob, put the oil in and add fry the onions for abut 5-7 minutes, or until lightly browned, then add chopped garlic, carrots and curry powder and fry for a further minute
Add diced squash, cover up with the stock, so that it covers up all the vegetables, and then some. Simmer for about 20 minutes or until the carrots and squash get soft.
Then add the chickpeas and beans and cook for further 5 minutes. Turn the heat off. Sprinkle chopped chard on top of the soup and cover up the pot with the lid and let stand for about 10 minutes. Serve with a slice of rye or wholegrain bread.
Print Recipe
Did you make this recipe?
Share your creations by tagging @livegreenandgood on Instagram with the hashtag #livegreenandgood