Rosewater and Pistachio Meringues with Fresh Strawberries and Vanilla Cream
Serves: 12
Ready in: 60 mins +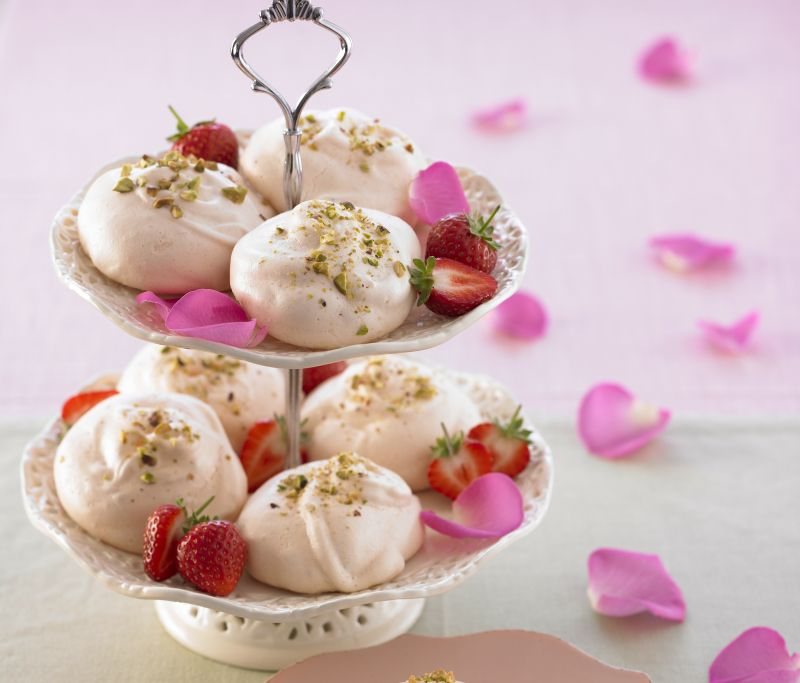 Ingredients:
4 large free-range egg whites
large pinch cream of tartar
125g caster sugar
100g icing sugar
3 tbsp pistachios, roughly chopped
1-2 tsp rosewater
a tiny drop of vegetarian red or pink food colouring (optional)
200g Jubilee strawberries, hulled and sliced into halves or quarters
200ml double cream
½ vanilla pod, seeds removed

You will also need
2 baking sheets, lined with baking parchment
method:
Preheat the oven to 140C/275F/Gas 1 (reduce for fan ovens). In a large, clean bowl, whisk the egg whites and cream of tartar to soft peaks, then slowly whisk in the caster sugar, a quarter at a time, until the mixture is thick and glossy.
Spoon a third of the egg mixture into a separate bowl and beat in the rosewater, 2 tbsps of the pistachios and the food colouring, if using.
Using a metal spoon, carefully fold this back into the rest of the egg mixture, then sift in the icing sugar and gently fold this in too.
Spoon two tablespoons of the meringue mixture onto the baking trays and sprinkle the tops with the remaining pistachios. Place these in the oven, then lower the oven temperature to 120C/250F/Gas 1/2 (reduce for fan ovens). Bake for 45 minutes, then leave in the oven to cool completely before removing (overnight is ideal).
To make the vanilla cream, whisk the double cream with the vanilla seeds until it forms soft peaks. Serve the meringues with the strawberries and vanilla cream.
Print Recipe
Did you make this recipe?
Share your creations by tagging @livegreenandgood on Instagram with the hashtag #livegreenandgood