Roasted Butternut Squash Soup with Coriander Oil
Serves: 4
Ready in: 30 to 60 mins
This vegan soup really delivers on flavour!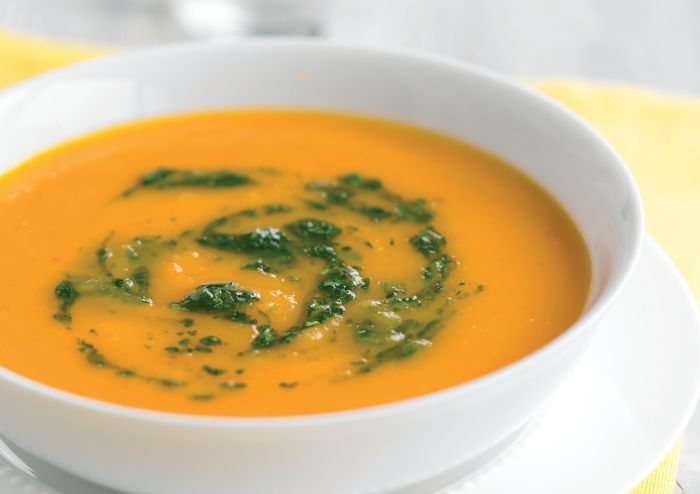 Ingredients:
1 medium butternut squash, approx 750g, peeled
3 tbsp Filippo Berio Olive Oil
1 medium onion, chopped
1 large carrot, chopped
1 large garlic clove, crushed
1 medium red chilli, seeded and chopped
1 tsp finely chopped fresh ginger
350g potatoes, peeled and diced
1.2lt vegan vegetable stock

[hd]For the Coriander Oil[/hd]
small bunch coriander, stalks trimmed
90ml (6 tbsp) Fillipo Berio extra virgin olive oil
method:
Pre-heat the oven to 200C/400F/Gas 6. Peel the butternut squash, cut in half, discard the seeds and stringy bits then chop into large chunks. Place on a roasting tray and drizzle with 1 tbsp of the oil. Cook in the oven for 30 minutes until tender.
Meanwhile, heat the remaining 2 tbsp of oil in a large pan, add the onion and carrot and cook gently for five minutes. Stir in the garlic, chilli and ginger and cook for five minutes more, stirring.
Add the potatoes and stock, bring to simmer, cover the pan and cook for 15 minutes.
Put coriander leaves into a food processor or blender, add the oil and blend until finely chopped. Scoop out into a bowl and wash the appliance.
Add roasted squash to the pan and simmer gently for 10 minutes. Allow to cool slightly before puréeing the soup in batches. Season to taste.
Serve the soup in warm bowls then drizzle the coriander oil over each serving.
Print Recipe
www. filippoberio.co.uk/recipes
Did you make this recipe?
Share your creations by tagging @livegreenandgood on Instagram with the hashtag #livegreenandgood