Raw Mocha Slice
Ready in: 60 mins +
These no-bake slices freeze perfectly, and make a handy treat for when your cocoa cravings hit.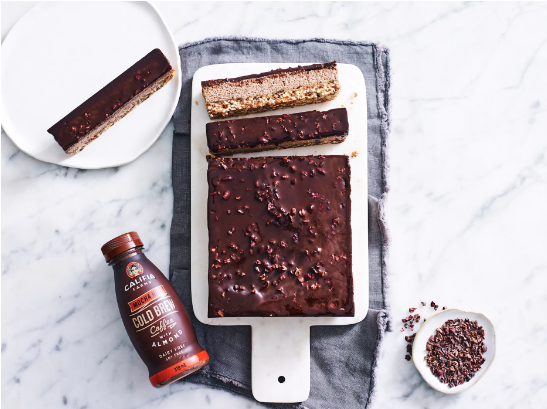 Ingredients:
For the crust:
173g raw almonds
240g cups pitted dates
30ml coconut oil
a pinch of salt
For the mocha cream:
375ml Califia Farm Cocoa Noir Cold Brew
230g nuts of your choice
60ml maple syrup
125ml coconut oil
2 tsp salt
For the chocolate:
233g coconut oil, room temperature
31g cocoa powder
1 tbsp maple syrup
25g cacao nibs
method:
Cover 2 cups of nuts of your choice with 1 ½ cups Cocoa Noir. Leave in the fridge to soak for at least five hours, or overnight. After the nuts have soaked, you can begin to make your crust.
Line a 13cm x 25cm x 8cm baking tray with baking paper. Add the raw almonds into a food processor or blender, and blitz until coarsely ground. Add in the dates, coconut oil and salt. Blitz until everything is fully combined, and the mixture easily sticks together with your fingers.
Pour the base into your prepared pan, pressing firmly and evenly over the bottom. Freeze the base while you make the mocha cream.
To make your mocha cream, add the soaked nuts and the Cocoa Noir they have been soaking in into a food processor or blender. Blend until smooth, then add the honey, coconut oil and salt, and blend until light and creamy.
Pour the mocha cream over the base layer and smooth evenly with the back of a spoon. Place the tray back in the freezer to set for at least one hour.
Once your mocha cream layer has set, you can make the chocolate layer. Simply mix the coconut oil, cocoa powder and honey in a bowl until smooth. Pour over the mocha layer, and sprinkle with cacao nibs before the chocolate hardens. Return to the freezer for 10 minutes, then allow the mixture to sit at room temperature for another 10 minutes before you cut it into slices. Store in the freezer.
Print Recipe
www.califiafarms.com/pages/united-kingdom
Did you make this recipe?
Share your creations by tagging @livegreenandgood on Instagram with the hashtag #livegreenandgood