Raw Asian-style Asparagus and Carrot Salad
Serves: 4
Ready in: 15 to 30 mins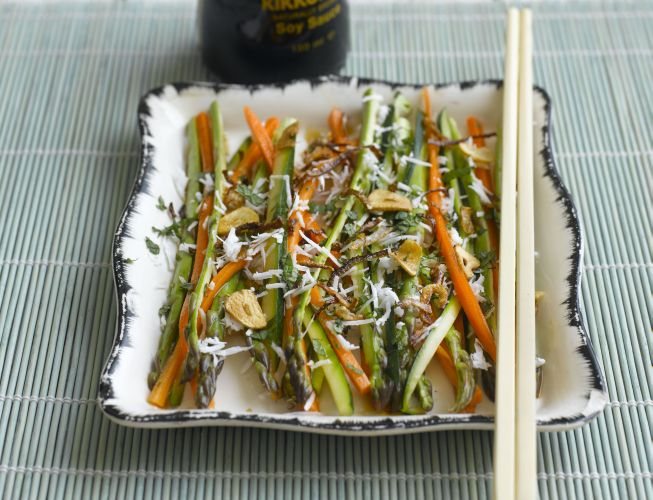 Ingredients:
1 bunch British asparagus spears
1 large carrot
1 courgette
1 shallot, finely sliced
1 garlic clove, finely sliced
2 tbsp sunflower oil
1 tbsp fresh mint
1/2 tsp dried red chilli

[hd]For the dressing[/hd]
juice of 1 lime
2-3 tbsp Kikkoman soy sauce
1 tsp palm sugar or light brown sugar
handful of freshly grated coconut (optional)
method:
Prepare the asparagus, carrot and courgette by cutting into long thin strips and place in a large mixing bowl.
Heat the oil in a small frying pan until hot and fry the shallot slices over a high heat until they are golden brown and crispy. Remove with a slotted spoon and drain on kitchen paper. Then add the garlic to the oil. Fry until crisp, remove and drain on kitchen paper.
Make the dressing by whisking all the ingredients together adding extra soy sauce to taste, then pour over the vegetables. Toss to mix and arrange on a serving plate.
Scatter over the crispy fried shallot and garlic, followed by the mint and chilli and serve the salad immediately.
Print Recipe
www.british-asparagus.co.uk
Did you make this recipe?
Share your creations by tagging @livegreenandgood on Instagram with the hashtag #livegreenandgood