Rainbow Shroom Burger
Serves: 1
This bright burger is packed with spices, pulses and veg for a wholesome flavour in every bite.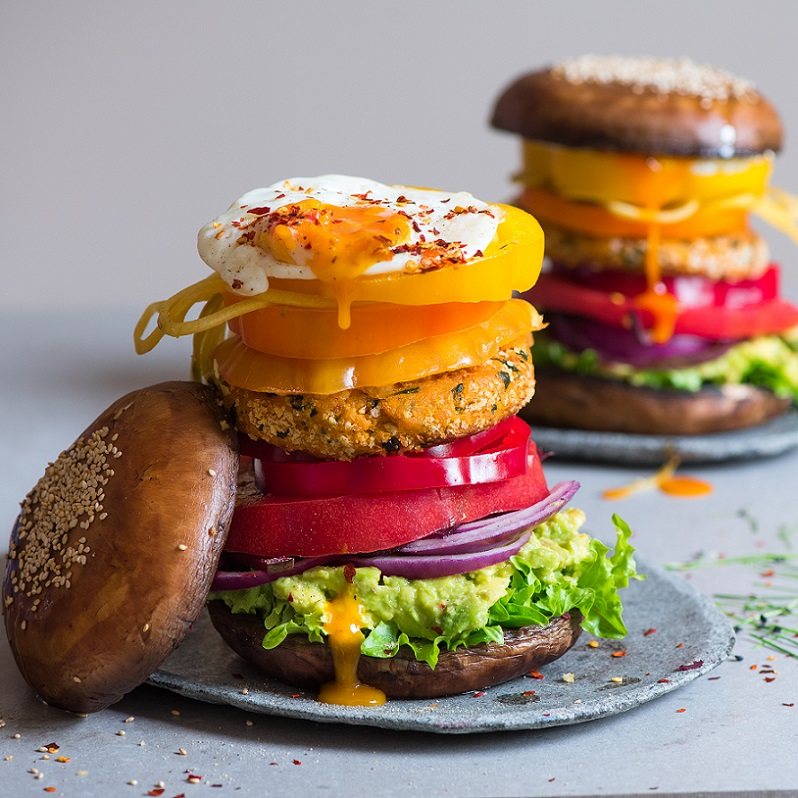 Ingredients:
For the burger:
2 Portobello mushrooms
handful of spinach
1 tomato
a few orange peppers
1 free-range egg
½ red onion
1 avocado
splash of coconut oil
For the patties:
1 sweet potato, baked
½ can cannellini beans, drained
115g spinach, chopped
1 tbsp tahini
splash of apple cider vinegar
¼ tsp each of garlic powder, onion powder, cayenne pepper, paprika, black pepper
2 1/2 tbsps wheat flour
handful of bread crumbs
method:
Preheat the oven to 200C/180F/Gas 6.
Mash the beans and the sweet potato together in a bowl. Add the chopped spinach, tahini and vinegar, then mix well before adding the spices and the flour (if the mixture is wet, add extra flour). Form into patty shapes and coat with the breadcrumbs for a super-crispy coating.
Heat the coconut oil in a frying pan and cook the patties for approximately 2-3 minutes on each side, then transfer to the oven for 12-15 minutes.
Meanwhile, chop the tomato, red onion and orange pepper into thin slices. Remove the stalks from the mushrooms and drizzle with oil, then season with salt and pepper. Grill the mushrooms stalk-side down for 5-7 minutes, turning towards the end. (Alternatively, you can skip the grill and simply place the mushrooms in the oven at the same time as the patties). When the patties are almost ready, fry the egg.
Stack the burger buns with a layer of spinach, a patty, onion, tomato and orange pepper, then top with the fried egg.
Print Recipe
www.clarencecourt.co.uk/
Did you make this recipe?
Share your creations by tagging @livegreenandgood on Instagram with the hashtag #livegreenandgood