Quorn Vegetable Paella
Serves: 4
Ready in: 30 to 60 mins
Know your nutrients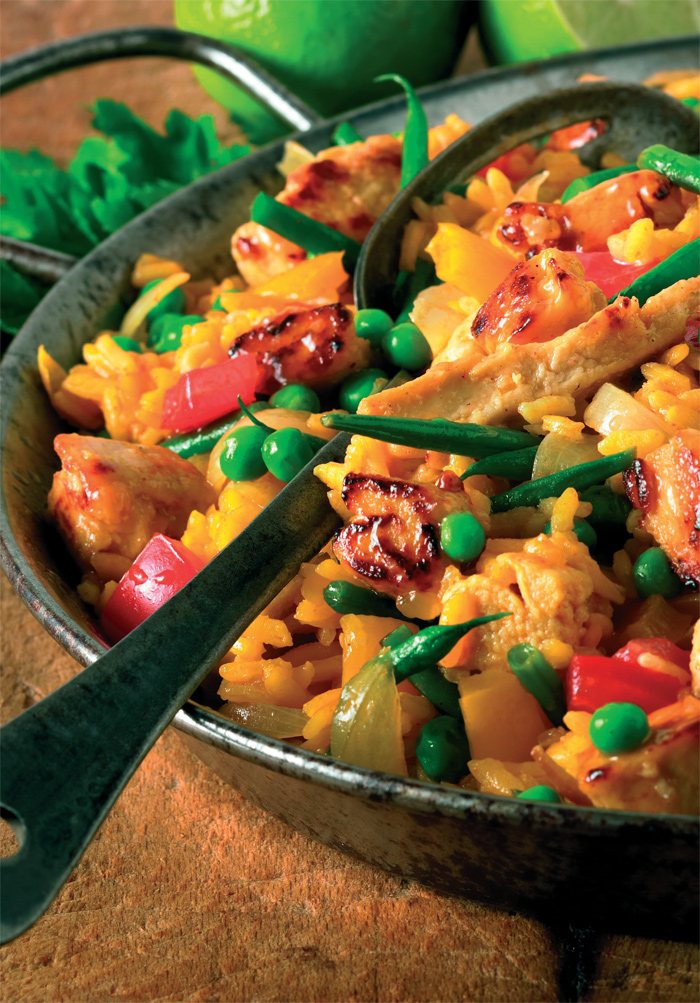 Ingredients:
350g Quorn pieces
2 lemons, zest and juice
300ml dry white wine
2 tbsp olive oil
2 onions, thinly sliced
2 garlic cloves, thinly sliced
1 red pepper, deseeded,sliced into rings
1 yellow pepper, deseeded and sliced into rings
450g tomatoes, skinned and chopped
225g thin green beans
225g peas
450g long grain or Valencia paella rice
4 tsp smoked paprika
1/2 tsp saffron
2 tsp turmeric
3 tsp mild chilli powder
600ml vegetable stock
salt and freshly ground black pepper
3 tbsp chopped parsley
1 lemon (cut into wedges) and olives, to garnish
method:
In a shallow bowl marinate the Quorn pieces in the lemon zest and juice and the dry white wine.
Heat the olive oil in a large frying pan. Fry the onions and garlic gently until soft and golden. Add the peppers and fry for 4-5 minutes. Stir in the tomatoes, beans and peas and cook for a further 6 minutes.
Remove the Quorn pieces from the lemon juice and wine marinade, reserving both. Add the rice, paprika, saffron, turmeric, chilli and reserved marinade to the pan and stir well.
Stir in the stock and simmer well for about 15 minutes. Sir in the marinated Quorn pieces and continue simmering for a further 10 minutes or until the rice is tender, adding more liquid if required.
Season to taste, sprinkle over the parsley and serve with the lemon wedges and olives.
Print Recipe
www.quorn.co.uk
Did you make this recipe?
Share your creations by tagging @livegreenandgood on Instagram with the hashtag #livegreenandgood