Pumpkin Spice Granola
Serves: 4
From the CNM Natural Chef Kitchen at the College of Naturopathic Medicine. With its warming blend of aromatic spices, this delicious pumpkin granola fills the house with the most amazing scents of autumn whilst baking! It's a perfect combination of crunchy and sweet. The recipe calls for pre-cooked sweet potato, but you can use pumpkin purée as a substitute.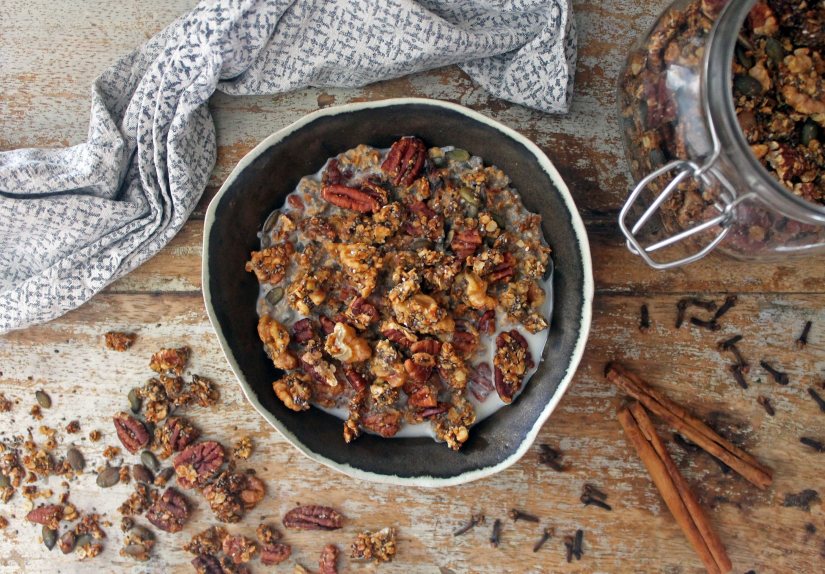 Ingredients:
2 tablespoons of soft coconut oil
135g of gluten free oats
190g of roughly chopped pecans
1 heaped teaspoon of ground cinnamon
1 heaped teaspoon of ground ginger
65g of roughly chopped walnuts
75g of pumpkin seeds
80g of chia seeds
75g of baked and mashed/puréed sweet potato
¼ teaspoon of ground mace
80g of maple syrup
1/8 teaspoon of ground cloves
A pinch of sea salt
To serve
Ice cold pecan or almond milk
method:
Preheat the oven to 160 degrees for conventional or 140 degrees for fan assisted oven, and line a shallow oven tray with baking paper.
Add the oats, nuts and seeds to a large mixing bowl and mix well to combine.
Add the ginger, cinnamon, mace, salt and cloves to the bowl. Toss the mixture to distribute the seasonings evenly.
Add the coconut oil, sweet potato purée and maple syrup to a small pan over a gentle heat. Stir together until the oil has melted and the mixture is fully combined.
Pour the wet mixture over the dry ingredients, stirring well to ensure the mixture is evenly coated in the liquid.
Tip the mixture out onto the lined oven tray and spread it evenly.
Transfer to the oven to bake for 30-35 minutes, turning frequently and breaking up any large clumps. The granola should be golden brown and fragrant, but be careful not to burn or the mixture will taste bitter.
Allow to cool completely before serving with ice cold pecan or almond milk.
Print Recipe
www.naturopathy-uk.com/naturalchef
Did you make this recipe?
Share your creations by tagging @livegreenandgood on Instagram with the hashtag #livegreenandgood