Poppy Seed Granola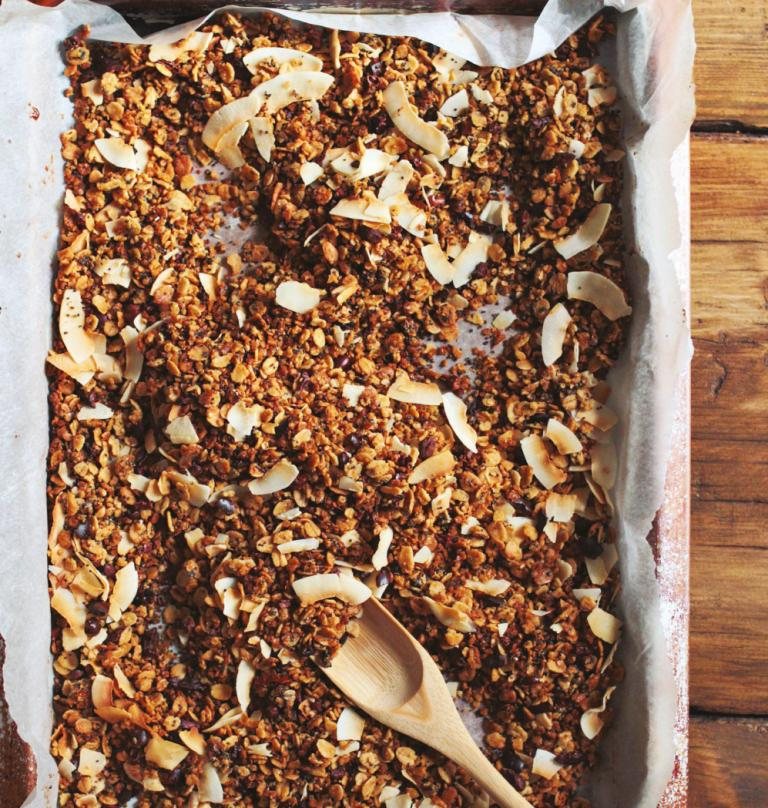 Ingredients:
140g gluten-free oats
45g quinoa flakes
50g poppy seeds
1 heaped tbsp brown sugar
Pinch of sea salt
2 tbsp coconut oil, melted
1 tbsp tahini
60ml maple syrup
1 tsp vanilla paste
Juice 1 clementine
50g cacao nibs
25g coconut flakes
method:
Pre-heat the oven to 170C/375F/Gas 3. Line a baking tray with parchment paper and add the oats, quinoa, poppy seeds, sugar and salt. Stir to combine.
Whisk together the coconut oil, tahini, maple syrup, clementine juice and vanilla paste until smooth. Pour over the oat mix and stir to fully incorporate before baking for 15-20 minutes in the oven, stirring once to ensure it toasts evenly.
Add the cacao nibs and coconut flakes and toast for a further 5-7minutes, stirring once. Remove from oven and let it cool completely before transferring to a sterilised jar.
Print Recipe
Did you make this recipe?
Share your creations by tagging @livegreenandgood on Instagram with the hashtag #livegreenandgood