Poached eggs with wilted spinach on rye sourdough toast
Serves: 4
Ready in: Under 15 Mins
Want to improve your gut health? Rye sourdough and spinach are great sources of fibre and polyphenols, which are great for your gut! We love this easy breakfast recipe, from Joan Ransley, author of Cooking for the Sensitive Gut .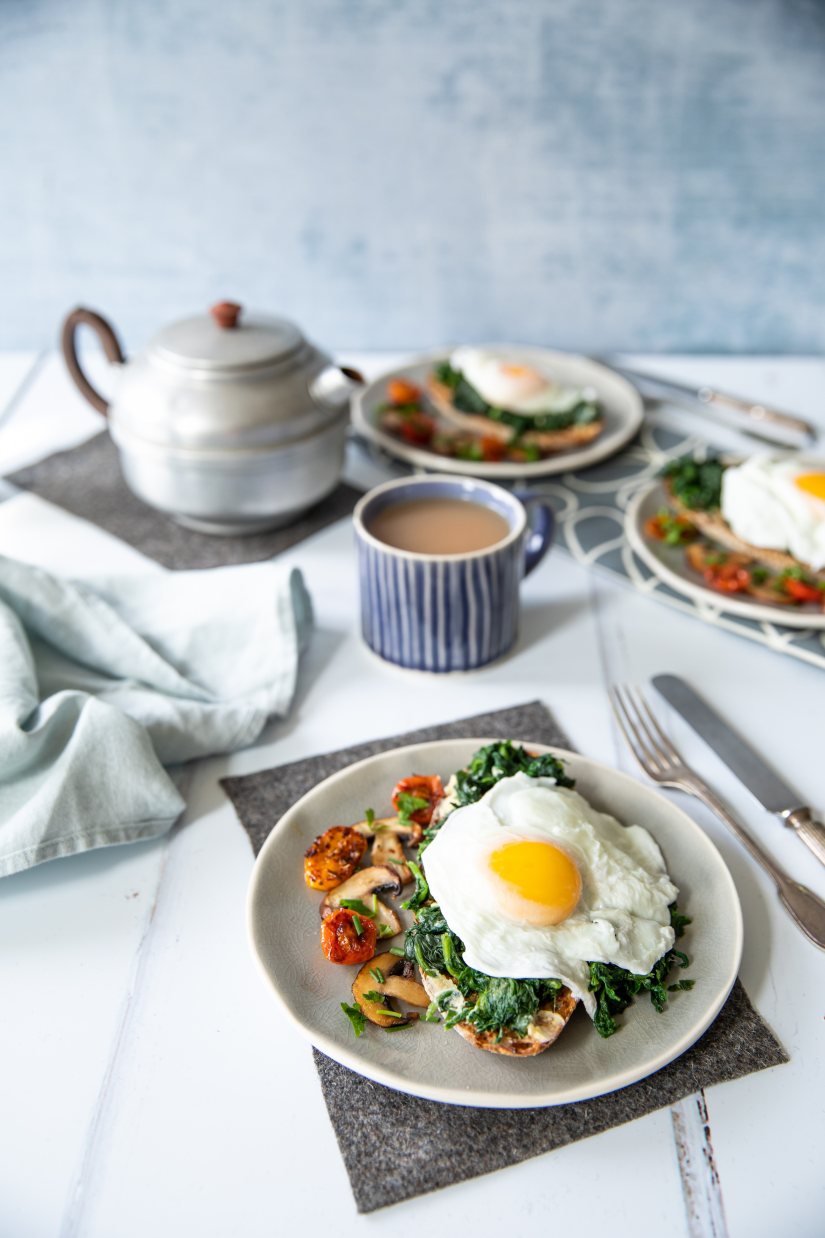 Ingredients:
4 slices of rye sourdough bread, toasted
20g butter, softened
300g fresh spinach
4 free-range eggs
To serve:
8 cherry tomatoes, halved
a drizzle of olive oil
4 chestnut mushrooms, sliced
8 thin asparagus spears
sea salt flakes and black pepper, to taste
method:
Prepare four slices of toast, lightly butter each slice and place them on warmed plates.
Meanwhile, place the spinach in a steamer over a pan of simmering water, and steam for three minutes, until it has wilted. Squeeze out any excess moisture from the spinach, then season with a little salt and pepper. Place a quarter of the spinach on each piece of toast.
To poach the egg, fill a wide pan with hot water to the depth of 5cm, and bring to a simmer. Break each egg into a cup and then slip the egg into the water, leaving plenty of space between each one. Set a timer for two minutes. Keep the water at a gentle simmer, checking there are small bubbles rising from the bottom of the pan. After two minutes, turn the heat off from under the pan and gently baste the eggs with the hot water, until they are as cooked as you like them. After two minutes' cooking time, the white will be cooked and the yolk will be runny. After five minutes, the yolk will be soft. Leave the eggs for a little longer in the pan if you prefer them well done. Remove the eggs from the pan using a draining spoon, dab on a piece of kitchen paper to absorb any excess liquid, and serve on the toast topped with spinach.
Asparagus spears can be steamed with spinach, however they take slightly longer to cook – allow 5-10 minutes, depending on the thickness of the asparagus. Drizzle a little olive oil in a non-stick pan, and cook the tomatoes and mushrooms for five minutes, until just beginning to caramelise and brown slightly. Season with a little salt and black pepper.
Print Recipe
loveyourgut.com
Did you make this recipe?
Share your creations by tagging @livegreenandgood on Instagram with the hashtag #livegreenandgood