Phil Vickery's Squash and Potato Korma
Serves: 3
Ready in: 60 mins +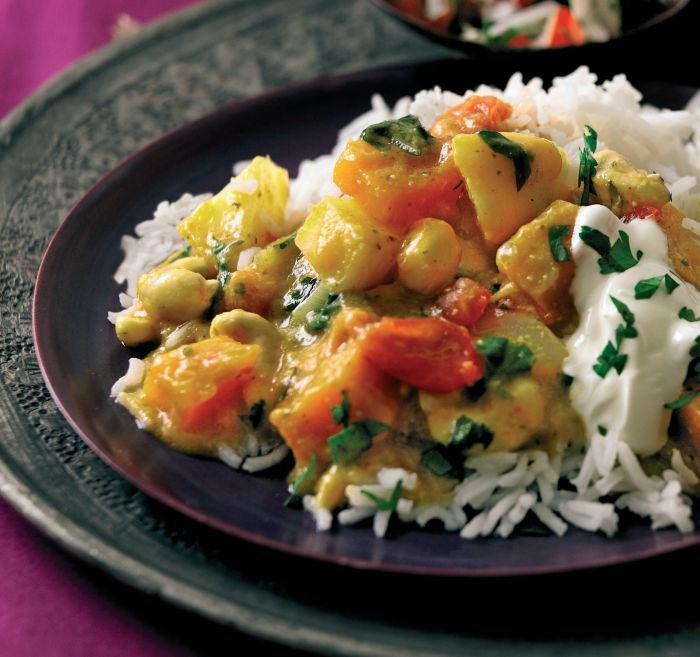 Ingredients:
2 tbsp olive oil
2 small onions, peeled and chopped
2 medium potatoes, peeled and chopped
400g butternut squash, peeled and chopped
1 jar Worldwide Korma Sauce
100g cashew nuts, whole
2 fresh tomatoes, roughly chopped
1 small pot fresh coriander, chopped
1 tub natural yoghurt
2 sachets basmati microwaveable rice
method:
Preheat the oven to 180C/350F/Gas 4. Heat the olive oil, then add the onions and cook for 3-4 minutes. Cube the potatoes, wash them well and add to the onions along with the squash.
Cook for one minute, then add the korma sauce and cashew nuts and mix really well. Cover and place the pan in the oven for 45-50 minutes to cook through completely.
Once cooked, remove the pan from the oven, uncover and stir in the tomatoes and coriander. Check the seasoning and adjust if needed, then leave for 10 minutes to cool slightly. Serve equally in bowls with half a sachet of hot rice per person and a blob of natural yoghurt.
Print Recipe
www.aldi.co.uk
Did you make this recipe?
Share your creations by tagging @livegreenandgood on Instagram with the hashtag #livegreenandgood