Peanut Butter Blondie Cookie Bars
Serves: 12
Ready in: 60 mins +
"These toffee-coloured peanut butter blondies are halfway between a brownie and a cookie. The edges turn wonderfully crisp and chewy, while the centre is fudgy and soft." Recipe extracted from Vegan Slow Cooker: Over 70 delicious recipes for stress-free meals by Saskia Sidey. (£12.99, Hamlyn)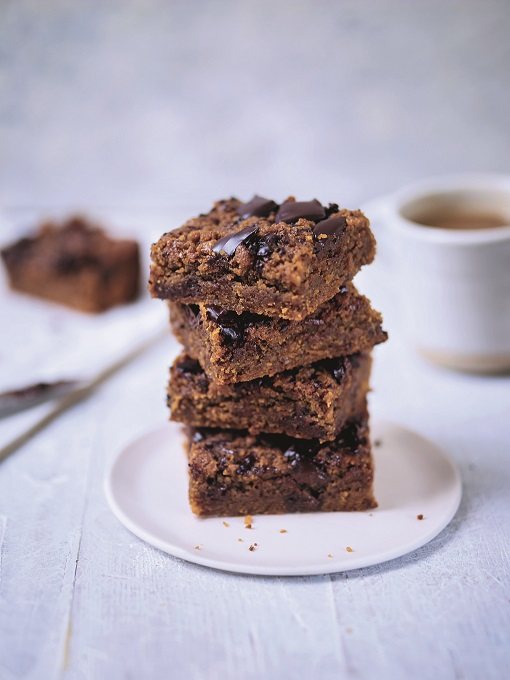 Ingredients:
2 tbsp ground flaxseed (linseed)
4 tbsp cold water
nonstick cooking spray or vegan butter, for greasing
200g light brown soft sugar
80g vegan butter
250g peanut butter
1 tsp vanilla extract
150g plain flour
¼ tsp baking powder
125g vegan dark chocolate chips or 70% cocoa vegan dark chocolate, chopped
method:
Mix the ground flaxseed with the measured cold water in a small bowl and leave to stand for about five minutes, until thickened. Meanwhile, line the bottom of the slow cooker pot with nonstick baking paper and grease the sides with vegan butter or nonstick cooking spray.
Put the sugar, vegan butter, peanut butter and vanilla extract into the bowl of a stand mixer fitted with the whisk attachment and whisk together until well-combined, or whisk with a hand whisk in a bowl. Add the flaxseed mixture and mix until smooth. Fold in the flour and baking powder until no dry patches remain, then fold in half the chocolate chips.
Pour the batter into the slow cooker and spread it out evenly, then sprinkle over the remaining chocolate chips. Cover with the lid, positioned slightly ajar, and cook on high for 1½–2 hours, until golden around the edges and a skewer inserted into the centre comes out clean.
Uncover and leave to cool in the slow cooker pot for at least an hour, until firmer and easier to remove. Then turn out and cut into 12 bars.
Print Recipe
www.octopusbooks.co.uk/
Did you make this recipe?
Share your creations by tagging @livegreenandgood on Instagram with the hashtag #livegreenandgood