Pasta Bake with Pie d'Angloys
Serves: 4
Ready in: 60 mins +
Know your nutrients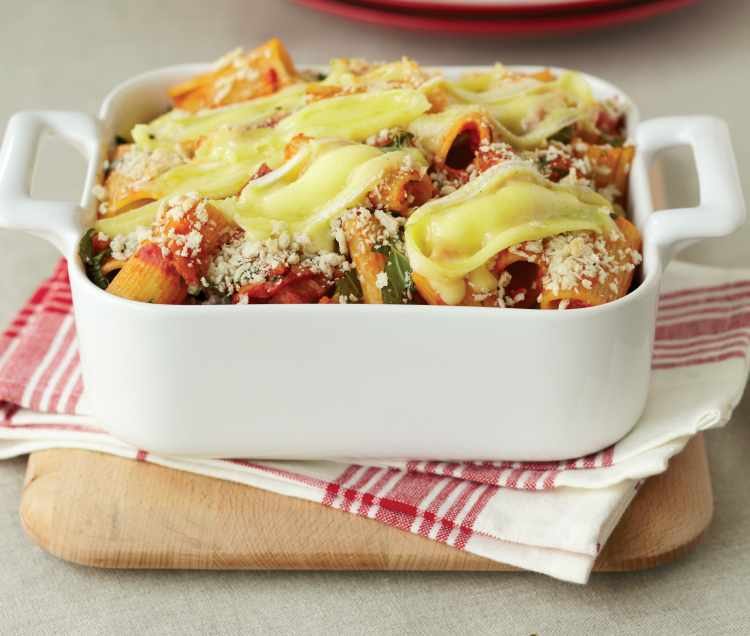 Ingredients:
1 tbsp olive oil
1 onion, finely chopped
1 celery stick, finely chopped
1 small carrot, finely chopped
4 garlic cloves, finely chopped
1 tbsp fresh thyme, finely chopped
2 x 400g tinned chopped tomatoes
250g rigatoni or tortiglioni pasta
200g Coeur de Lion Pie d'Angloys
1 bunch basil, roughly chopped
handful of breadcrumbs
method:
Preheat the oven to 200C/400F/Gas 6.
In a large pan, fry the onion, celery, carrot, garlic and thyme in the oil. Continue frying until the onion, celery and carrot have softened but aren't taking on colour. Add the tomatoes and continue cooking while you prepare the rest of the ingredients.
In a large pan of salted boiling water cook the pasta according to the packet instructions. Drain the pasta and add to the sauce.
Chop half the Pie d'Angloys into cubes and slice the other half into thin slices.
Stir the cubed cheese and basil into the pasta and pour the mixture into a baking dish. Top with the sliced Pie d'Angloys and sprinkle with a handful of breadcrumbs.
Bake in the oven for 20 minutes until cheese is melted and brown. Serve with a simple rocket salad or seasonal vegetables.
Print Recipe
Did you make this recipe?
Share your creations by tagging @livegreenandgood on Instagram with the hashtag #livegreenandgood