One pot pasta and pearl barley bake with preserved lemon, capers and olives
Serves: 4
Ready in: 60 mins +
To celebrate Love Your Gut Week from 16-22 September, Joan Ransley, author of Cooking for the Sensitive Gut shares her recipe for an easy one-pot meal packed with gut-friendly dietary fibre, healthy bacteria and healthy polyphenols.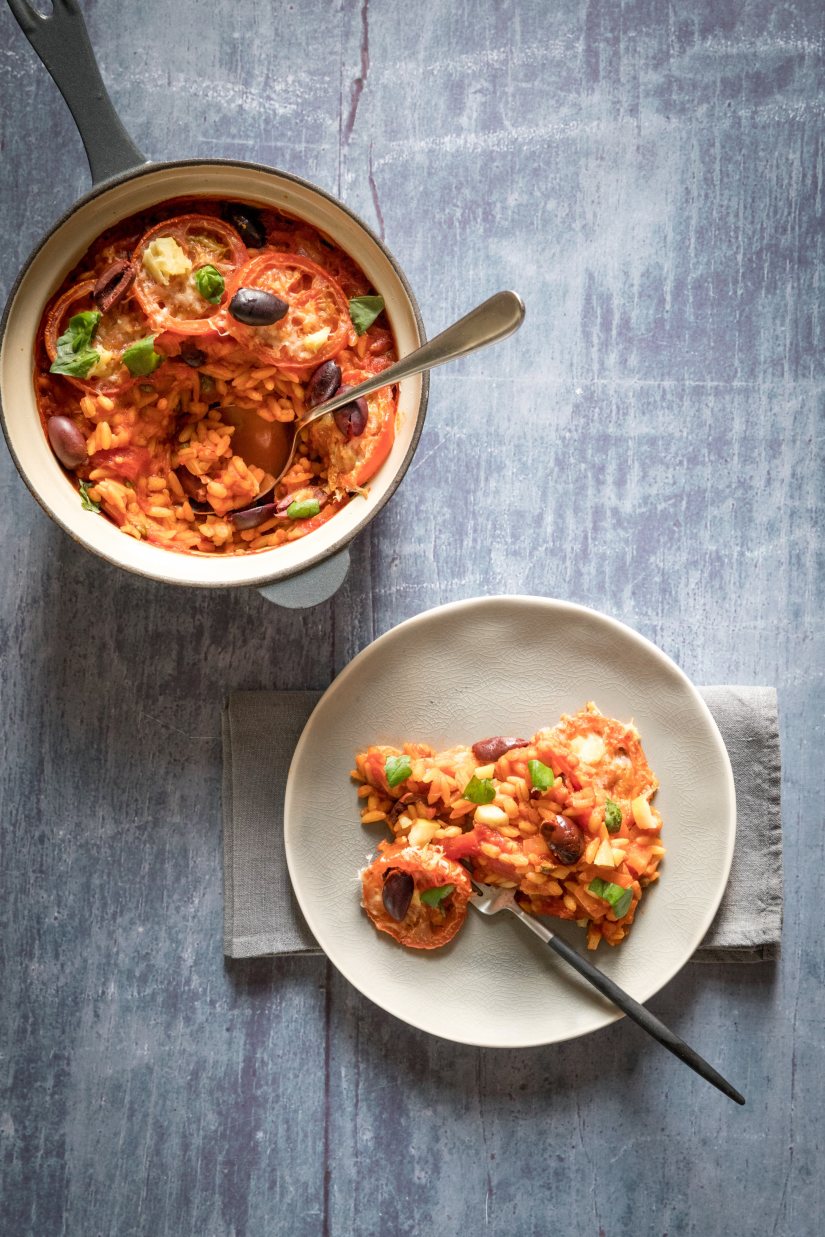 Ingredients:
1 tbsp olive oil
1 onion, peeled and finely chopped
3 garlic cloves, peeled and crushed
½ tsp chilli flakes (optional)
2 tbsp capers
1 tbsp of preserved lemon, flesh discarded and skin chopped
70g pitted kalamata olives, roughly torn in half
1 tbsp tomato paste
1 tin chopped tomatoes
125g pearl barley
125g orzo
180g plum tomatoes, cut into ½cm-thick rounds
40g veggie-friendly Parmesan cheese, grated (or non-dairy hard cheese for a vegan version)
salt and black pepper
1 1/2 tbsp basil leaves, roughly torn
method:
Heat the oven to 220C/425F/Gas 7. Put a tablespoon of oil into a large, ovenproof pan for which you have a lid, and heat gently. Add the onion and cook, until softened and browned slightly. Add the garlic and chilli, if using, and cook for a minute more before stirring in the capers, half the preserved lemon and olives, tomato paste, tinned tomatoes, pearl barley and 450ml water.
Bring the contents of the pan to a simmer, cover and cook for ten minutes. Remove the lid and add the orzo, then transfer the pan to the oven for 20 minutes. Lift the lid off the pan and check that the orzo and pearl barley are cooked. If not, cook for a little longer, adding a bit more liquid if required.
Haphazardly top the mixture with the sliced tomatoes, sprinkle over the cheese and return to the oven, uncovered, for 10 -12 minutes, or until bubbling and lightly browned. Remove from the oven and top with the remaining olives, preserved lemon and torn basil. Season with a little sea salt and black pepper, and serve straight from the pot.
Cooks tip! To make your own quick version of preserved lemons, thinly slice two washed, unwaxed lemons. Cover with a tablespoon of salt and leave for 30 minutes. Pack the slices, plus the salty juices, into a small sterilised glass jar, and cover with a layer of olive oil. The lemons will be ready to use after a day, and for up to one month, after the jar has been opened.
Print Recipe
loveyourgut.com
Did you make this recipe?
Share your creations by tagging @livegreenandgood on Instagram with the hashtag #livegreenandgood