MUSHROOM SCALLOPS WITH APPLE AND PARSNIP MASH
Serves: 4
Cost Cutting Eco Friendly Quick Make Vegan Friendly
This vegan starter dish from BOSH! in association with Alpro is sure to be a hit with guests at your next dinner party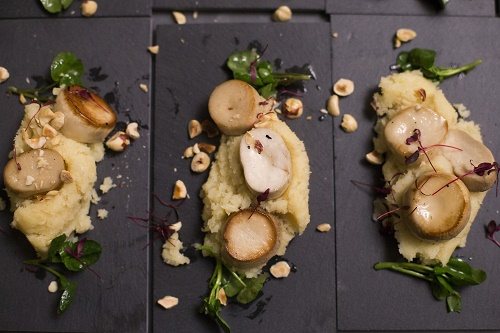 Ingredients:
FOR THE 'SCALLOPS':
4 trumpet mushrooms
1 tsp salt
juice of 2 lemons
1 tsp oil
FOR THE MASH:
3 parsnips, peeled and chopped
1 Bramley apple, peeled and chopped
1 tsp oil
25ml water
1 pinch of salt
1 tbsp Alpro Almond Unsweetened drink
FOR THE DRESSING:
1-2 lemons, juice and zest
1 shallot, finely diced
hazelnut oil
½ tsp Dijon mustard
TO SERVE:
50g hazelnuts, toasted
watercress or greens
method:
Slice the mushrooms stems into scallop size pieces and cover with warm water - add the salt and lemon juice and leave to soak overnight.
Place the apples and parsnips into a pan with the oil, water and salt. Cook over a medium heat until soft, stirring occasionally so as not to catch.
Allow to cool, then purée in a food processor with the Alpro Almond Unsweetened drink until smooth.
Next, make the dressing - combine the shallot with the lemon juice and set aside for 20 minutes. Then, add the mustard and a drizzle of hazelnut oil and whisk until combined.
Remove the mushroom scallops from the water and dry. Heat the oil in the frying pan and add the mushroom, season with a pinch of salt and cook on both sides.
Serve with the apple and parsnip purée, dressed greens and scattered with hazelnuts.
Print Recipe
Did you make this recipe?
Share your creations by tagging @livegreenandgood on Instagram with the hashtag #livegreenandgood