Mushroom Lentil and Wild Rice Salad
Serves: 4
Ready in: 15 to 30 mins
"Vegan foods can be a dieter's dream – especially as they are free from the saturated fats found in cheese and other dairy products," says Paul Russell, winner of the Vegan Catering Challenge 2008. "You will still need to keep an eye on your intake of fats and sugars, but just aim to be creative in your use of fresh produce, and why not try these great recipes from the Vegan Society?"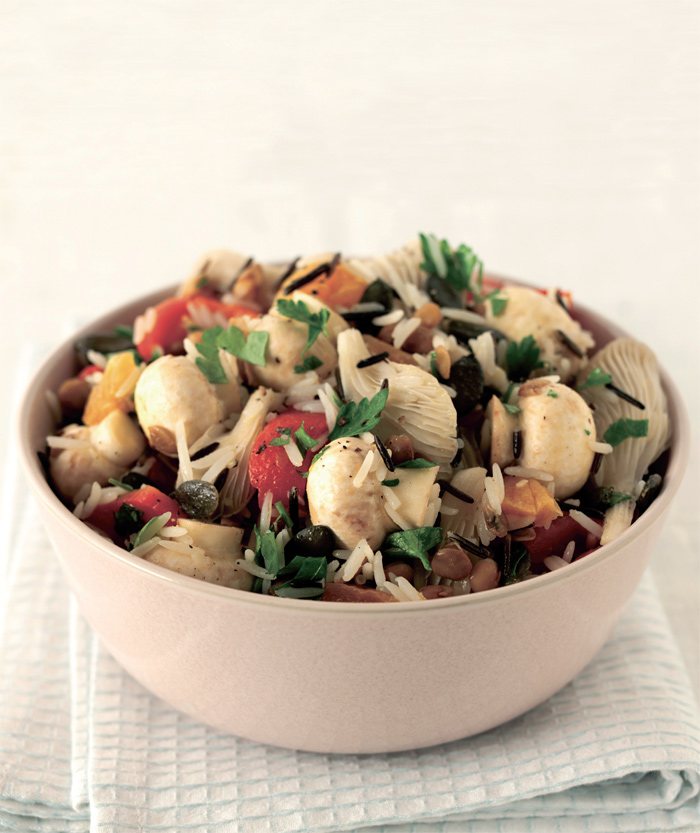 Ingredients:
100g basmati and wild rice
410g can green lentils, drained
100g ready-to-eat dried apricots, diced
4 tbsp pumpkin seeds
320g jar red peppers
1 clove garlic, crushed
1 tbsp red wine vinegar
100g button mushrooms
75g oyster mushrooms, torn if large
3 tbsp chopped fresh flat parsley
method:
Cook the rice in boiling water for 15 minutes until just tender. Drain and rinse until cold. Empty into a bowl and add the lentils, apricots and pumpkin seeds.
Drain the peppers reserving 3 tbsp of the juices. Mix this with 2 tbsp olive oil, garlic, vinegar and seasoning to taste.
Slice the peppers into strips and stir into the rice with the mushrooms, parsley and dressing. Leave to marinate in the fridge for at least 30 mins before serving.
Print Recipe
www.mushroom-uk.com
Did you make this recipe?
Share your creations by tagging @livegreenandgood on Instagram with the hashtag #livegreenandgood