Mushroom & Chestnut Samosas
Serves: 6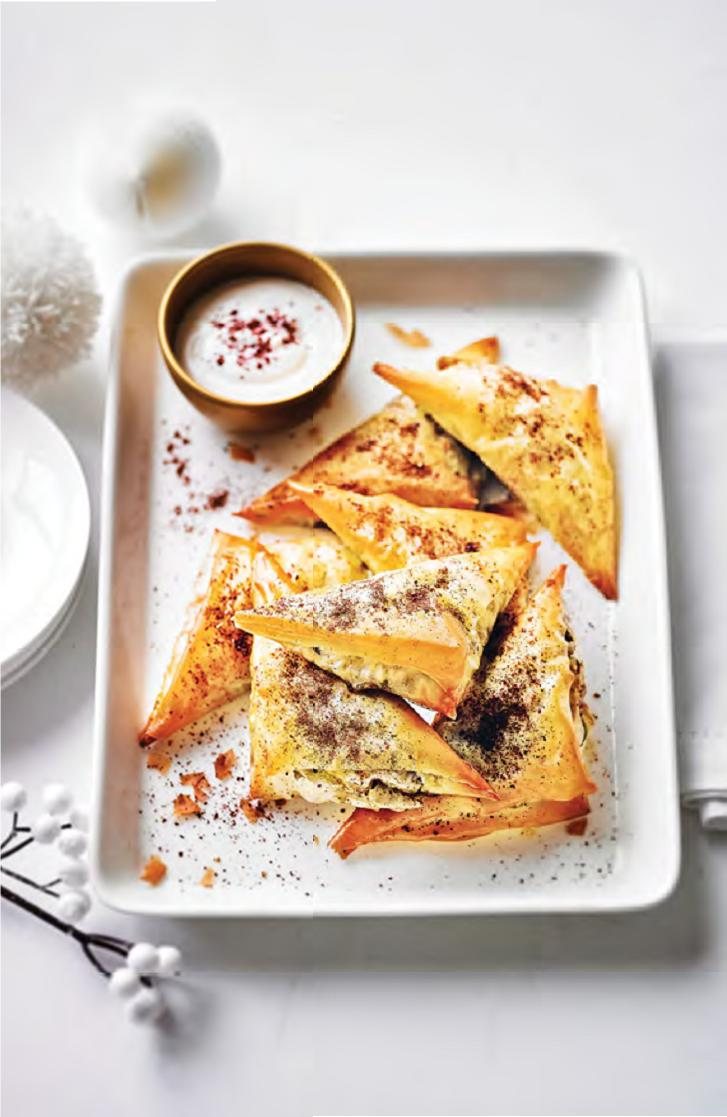 Ingredients:
½ x 30g pack dried porcini mushrooms
100g butter
2 echalion shallots, finely chopped
2 garlic cloves, crushed
150g chestnut mushrooms, sliced
150g Portabellini mushrooms, sliced
2 tbsp Madeira or brandy
½ x 25g pack flat leaf parsley, finely chopped
100g whole cooked, peeled chestnuts, roughly chopped
25g toasted pine nuts
450g pack spinach, washed
6 sheets filo pastry
4 tbsp sun-dried tomato paste sumac and ground cinnamon, for dusting
1 tbsp Waitrose Cooks'
Ingredients Tahini
3 tbsp lemon juice
3 tbsp 0% fat Greek yoghurt
method:
Soak the porcini in boiling water for 15 minutes, then drain and chop. Melt 25g of the butter in a large frying pan and gently fry the shallots and garlic for five minutes until soft. Add all the mushrooms and cook over a high heat for 3-4 minutes until golden and just tender. Remove from the heat and stir in the Madeira, parsley, chestnuts, pine nuts and seasoning. Leave to cool.
Preheat the oven to 200C/400F/Gas 6 and line two large baking sheets with parchment. Steam the spinach for two minutes until wilted, then squeeze out any water. Melt the remaining butter. Divide the mushrooms and spinach into 12 equal portions.
Lay a clean tea towel on the work surface. Place the stack of pastry sheets with the short end nearest to you. Using scissors, cut the sheets in half lengthways. Take one length of pastry. Brush with butter. Spread one teaspoon of the tomato paste in a circle on the end nearest to you, leaving a 2cm border around it. Top with one portion each of the spinach and mushrooms.
Print Recipe
Did you make this recipe?
Share your creations by tagging @livegreenandgood on Instagram with the hashtag #livegreenandgood