Love Beets Black Forest Beetroot Brownies with a Cheesecake Swirl
Serves: 16
Ready in: 60 mins +
Add a twist to your brownies with this delicious recipe. The addition of beetroot, a cheesecake topping and cherries makes for a unique sweet treat.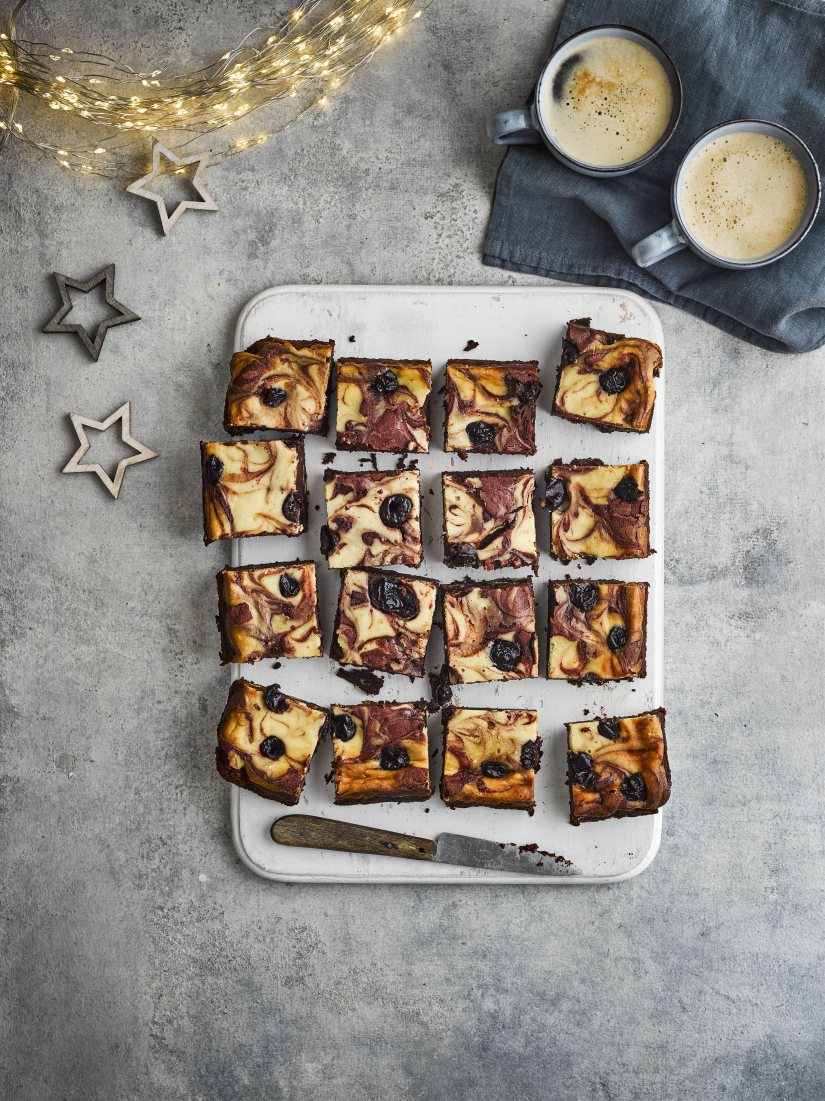 Ingredients:
For the brownies:
280g Love Beets Cooked Beetroot (1 pack)
80g butter
200g dark chocolate, broken
130g caster sugar
130g soft dark brown sugar
3 free-range eggs
110g plain flour
100g white chocolate, roughly chopped
For the cheesecake topping:
80g white chocolate
80g cream cheese
1 small free-range egg
50g sour cream
25 kirsch-soaked cherries, drained (or you can use fresh, pitted cherries)
method:
Preheat the oven to 170C/325F/Gas 3. Line a 22cm square tin with baking parchment. Put the Love Beets Cooked Beetroot into a high-speed blender and blitz until smooth.
Add the butter and dark chocolate to a heatproof bowl and set over a pan of lightly simmering water to melt, stirring occasionally. Set aside once melted.
Add the caster sugar, soft dark brown sugar and eggs to a bowl and beat with an electric whisk for five minutes, until pale and thick.
Using a large metal spoon, carefully fold in the blitzed beetroot puree and melted chocolate then the flour and white chocolate chunks, until just combined - be careful not to over-mix. Pour the batter into the prepared tin and set aside while you make the cheesecake mixture.
Melt the remaining white chocolate in a heatproof bowl set over a pan of barely simmering water then set aside to cool for five minutes.
Beat the cream cheese until smooth then beat in the egg, sour cream and finally the white chocolate, until combined.
Spoon the cheesecake mixture over the brownie mix, swirling it through with a skewer to create a marble effect. Scatter over the cherries, then bake for 35-40 minutes, until just set with the slightest wobble in the centre. Cool completely before cutting into squares.
Print Recipe
www.lovebeets.co.uk/
Did you make this recipe?
Share your creations by tagging @livegreenandgood on Instagram with the hashtag #livegreenandgood