Ken Hom's Vegan-friendly Sichuan Dan Dan Noodles
Serves: 4
Cost Cutting Eco Friendly Quick Make Vegan Friendly
"This vegetarian version of the popular Sichuan traditional 'dan-dan noodles', is meatless and is lighter than the original. Use your imagination with any of your favourite vegetables like courgette or carrots, or even cucumber. It is the sauces that gives this noodle dish its full bite of chillies, garlic and other seasonings without the heaviness. These noodles are usually served after a meal, making a tasty finale. But I think this recipe can be easily a delicious part of any meal or a simple main dish." – Ken Hom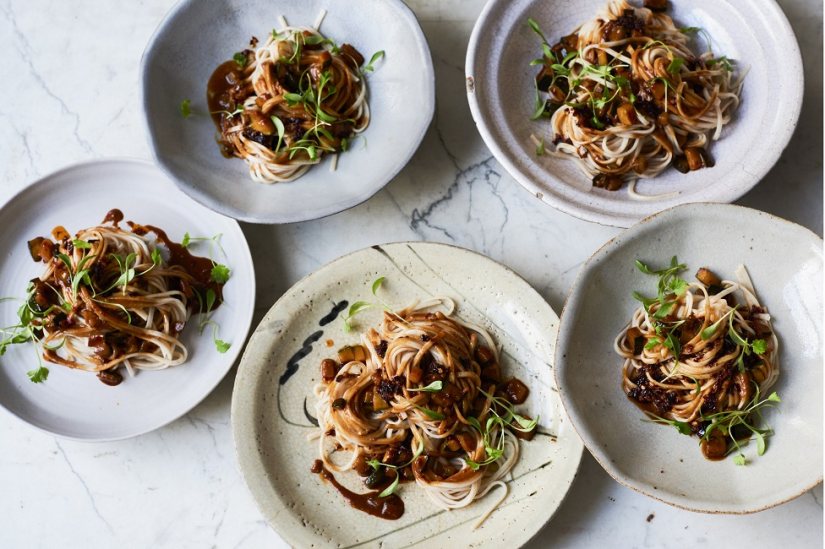 Ingredients:
1 tbsp groundnut or vegetable oil
110g courgette, finely chopped
1 tbsp garlic, finely chopped
2 tsp fresh ginger, finely chopped
2 tbsp Shaoxing rice wine or dry sherry
2 tbsp Lee Kum Kee chilli garlic sauce
2 tsp Lee Kum Kee Chiu Chow Chilli oil
1 tbsp peanut butter
1 tbsp Lee Kum Kee Premium dark soy sauce
1 tbsp sugar
450ml vegetarian stock
225g wholewheat noodles
method:
Heat a wok or large frying pan over high heat and add the oil. Add the courgette, garlic, ginger and stir-fry for one minute. Add the rest of the ingredients. Reduce the heat and simmer for three minutes over low heat.
Cook the noodles in a large pot of boiling water according to the pack instructions. Drain them well in a colander. Divide the noodles into individual bowls and ladle the sauce over them. Serve at once.
Print Recipe
Did you make this recipe?
Share your creations by tagging @livegreenandgood on Instagram with the hashtag #livegreenandgood