IMMUNE BOOSTING SOUP & SEEDY CARROT MUFFINS
Serves: 4
This vegan & gluten-free combination of winter warming soup and savoury muffins is a delicious main meal solution. The spicy thick veg soup is perfect for beating back winter bugs and the muffins are herby, chunky and filling, made with a gluten-free flour blend of brown rice, GF oat and buckwheat.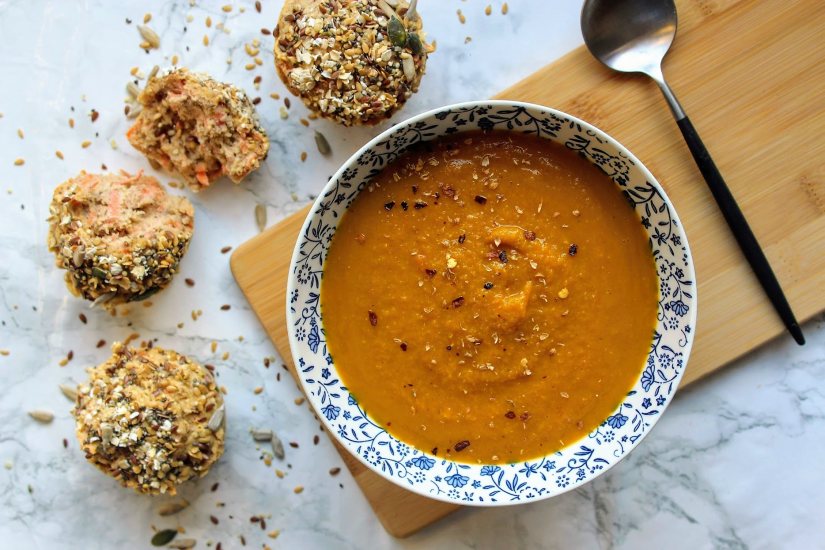 Ingredients:
For the soup -
1 onion, chopped
2 sticks celery, chopped
2 cloves garlic, crushed
Small piece of fresh ginger, grated
2 teaspoons garam masala
1 teaspoon ground cumin
1 teaspoon turmeric Powder
3 large carrots, peeled and chopped
3 large sweet potatoes, peeled and chopped
100g red lentils
1.2 litres vegetable stock
For the muffins -
75g brown rice flour
75g GF oat flour
50g buckwheat flour
½ teaspoon garlic powder
1 teaspoon mixed herbs
Salt & pepper to taste
1 teaspoon baking powder
250ml almond milk
1 teaspoon apple cider vinegar
2 tablespoons flaxseed + 4 tablespoons water
2 large carrots, grated
3 tablespoons mixed seeds (chia, pumpkin, linseed, sunflower)
3 tablespoons oat flakes
method:
First make the soup: Heat the oil in a large pan and add the onion, celery, garlic and ginger. Cook on a medium heat for 5 minutes.
Add the garam masala, cumin and turmeric, stir well and cook for a further 5 minutes.
Stir in the carrots, sweet potatoes and lentils and make sure everything is coating in the spices. Pour in the stock, bring to the boil and simmer for about 25 minutes until the vegetables are soft and the lentils are cooked. Leave to cool then blend well to achieve a smooth but slightly thick consistency.
Make the muffins: Preheat the oven to 180 degrees C and lightly grease a 6-hole muffin tin.
Mix together the flours, garlic powder, herbs, seasoning and baking powder in a bowl.
Whisk together the milk and cider vinegar and leave to stand for 5 minutes. In a separate bowl or cup mix together the flaxseed and water and leave for 5 minutes to thicken.
Pour both the milk and flaxseed mixture into the dry ingredients along with the grated carrots and stir well to combine.
Spoon between the muffin tins to reach the top. Mix the oat flakes and seeds together and sprinkle over the top of each muffin to lightly cover. Bake for 20 minutes until risen and firm to the touch.
Serve warm with a bowl of warmed up soup - yum!
Print Recipe
Gluten-free flours, wholefoods and spices in this recipe are available from indigo Herbs. Indigo Herbs supplies natural health products and ingredients to support you on your journey to plant-based health and wellbeing.
www.indigo-herbs.co.uk
Did you make this recipe?
Share your creations by tagging @livegreenandgood on Instagram with the hashtag #livegreenandgood