Honey Roasted Butternut Squash Soup
Serves: 4
There's nothing like a lovely warming soup!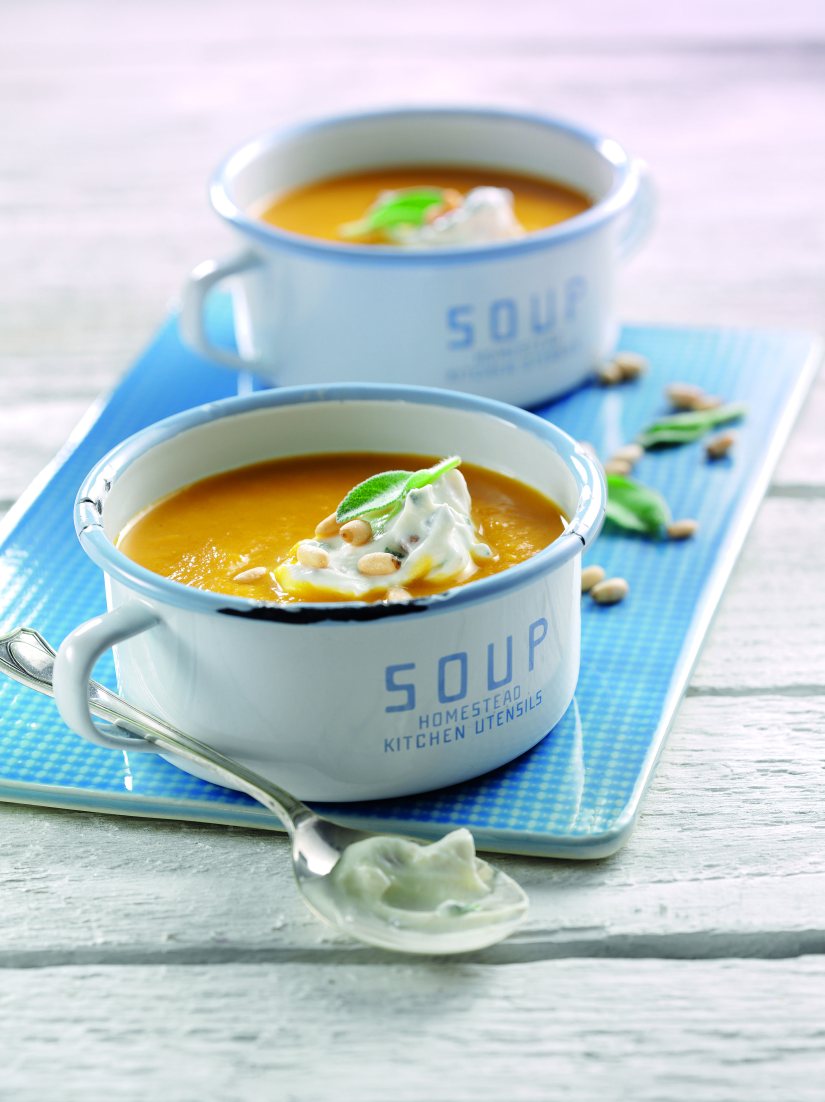 Ingredients:
130g TOTAL Greek Yoghurt
1 kg butternut squash, peeled, deseeded & cut into wedges
3 tbsp olive oil
60ml honey
½ tsp nutmeg
sea salt & freshly cracked black pepper, to taste
2 onions, chopped 3 cloves garlic, crushed
2 sticks celery, chopped
1.25 litres vegetable stock
3 tbsp chopped fresh sage
For the yoghurt sauce:
1 tbsp butter
50g pine nuts, toasted, reserving a few for garnish
2 tbsp chopped fresh sage, reserving a few leaves for garnish
method:
Preheat the oven to 180°C/Gas Mark 4
For the yoghurt sauce, place 100g Greek yoghurt in a bowl. Melt the butter in a small pan over a medium heat. Add pine nuts and 2 tbsp sage; sprinkle with salt and pepper. Stir until the nuts and butter turn brown. Stir the butter mixture into the yoghurt. Season the sauce to taste. Cover and chill.
Place the butternut squash and remaining sage into a large roasting tray and toss in 2 tbsp of the olive oil, honey, nutmeg and seasoning. Roast in the oven for about 40 minutes or until the butternut squash is softened and cooked through. Set aside.
In a large pan heat 1 tbsp of olive oil over a medium-low heat and add the onion, garlic and celery. Cook until the onion is softened and golden.
Add the butternut squash to the pan along with the stock and sage. Stir to combine and then transfer to a blender and blend until smooth.
Add the contents back to the pan and return the pan to the heat to simmer. Stir through the remaining yoghurt. Serve topped with the yoghurt sauce, a sage leaf and a sprinkling of pine nuts.
Print Recipe
www.uk.fage.eu/
Did you make this recipe?
Share your creations by tagging @livegreenandgood on Instagram with the hashtag #livegreenandgood