Hazelnut and Fig Tarts
Serves: 8
Ready in: 60 mins +
With readymade pastry cases, this dessert becomes a lot simpler than it looks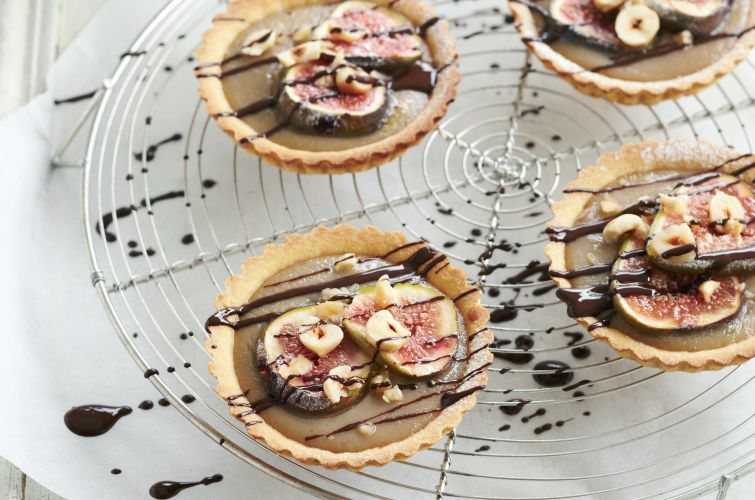 Ingredients:
2 free-range eggs and 2 egg yolks
500ml Alpro Hazelnut drink
4 heaped tbsp caster sugar
4 figs, sliced into rounds
8 readymade sweet pastry cases
20g toasted hazelnuts, chopped
2 heaped tbsp icing sugar
50g melted dark chocolate
method:
Preheat the oven to 180C/350F/Gas 4. Lightly beat the whole eggs, egg yolks and caster sugar in a large bowl.
Warm the Alpro Hazelnut drink in a small pan until it reaches a gentle simmer, and then stir into the bowl with the egg and sugar mixture. Do not overheat and make sure you mix vigorously when you add the eggs, to avoid curdling.
Pour this back into the small pan and cook over a low heat until the consistency is smooth and thick, like a custard.
Place your tart cases on a baking tray and spoon a little of the mixture into each. Pop a fig slice on top of each and dust with a little icing sugar.
Bake in the oven for 15-20 minutes until the mixture sets and the fig is slightly caramelised.
Meanwhile, melt the dark chocolate in a glass bowl suspended over boiling water. Top the tarts with the hazelnuts and a smidgen of melted dark chocolate for the finishing touch.
Print Recipe
www.alprosoya.co.uk
Did you make this recipe?
Share your creations by tagging @livegreenandgood on Instagram with the hashtag #livegreenandgood