Goat's Camembert Salad with Beetroot and Artichoke
Serves: 4
Ready in: 15 to 30 mins
Eco Friendly Gluten Free‏ Quick Make
Goat's cheese Camembert will give your dish a smooth and soft finish which is exactly what you need to go with the subtle flavour of the artichoke and the nutty, earthiness of the beetroot. This makes a great starter or light lunch dish. It's fresh, colourful and vibrant. This cheese also melts perfectly under a little heat, which adds a warming gooeyness to this wholesome salad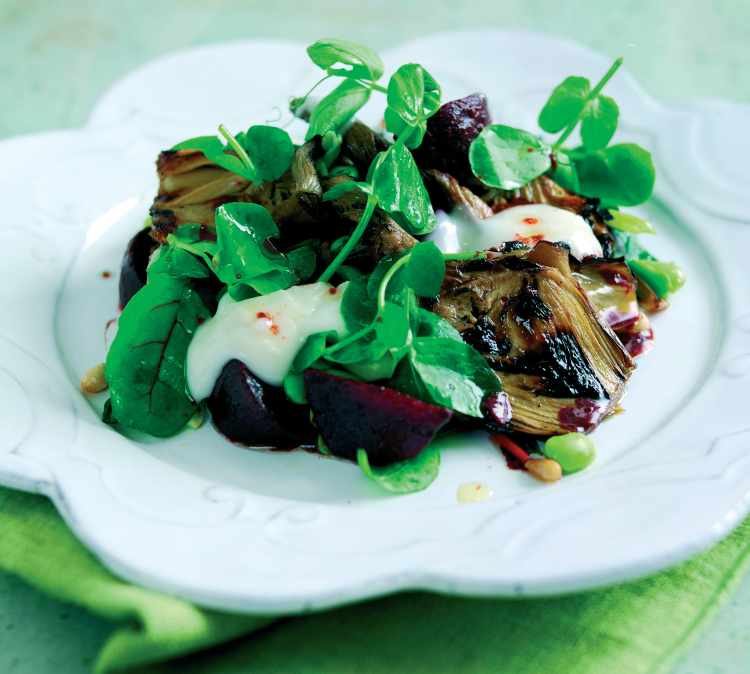 Ingredients:
200g veggie French goat's cheese Camembert
4 whole precooked beetroots
400g cooked, marinated artichokes
100g pine nuts
150g podded broad beans or soya beans
2 large handfuls of fresh basil
2 lemons
2 tbsp balsamic vinegar
1 tbsp Dijon mustard
4 tbsp olive oil
150g tender salad leaves
method:
Preheat the oven to 180C/350F/Gas 4. Place the goat's cheese Camembert, in its box, into the oven for 10 minutes to melt.
Next, slice the beetroot into bite sized pieces. Heat a large frying pan and dry fry the pine nuts until golden brown; leave to one side.
Pour 2 tbsp of oil into the same pan and add in the artichokes. Get a little colour on all sides, then add a squeeze of lemon and a twist of salt and pepper. Assemble onto a serving dish.
Pour 2 tbsp oil into the pan, get it nice and hot and add the beetroot, balsamic vinegar and Dijon mustard. When the beetroot is warmed through, spoon onto the platter with the artichokes.
Put the broad beans into a bowl along with the juice of a lemon, all the torn basil and 1 tbsp of olive oil and squash with the back of a fork. Mix in the salad leaves and scatter over the vegetables.
Remove the melted cheese in the box from the oven and spoon the gooey cheese all over the top of the salad. Sprinkle with the toasted pine nuts and lots of black pepper.
Print Recipe
www.frenchgoatscheese.com
Did you make this recipe?
Share your creations by tagging @livegreenandgood on Instagram with the hashtag #livegreenandgood