Gingered Carrot Soup
Serves: 4
Ready in: 30 to 60 mins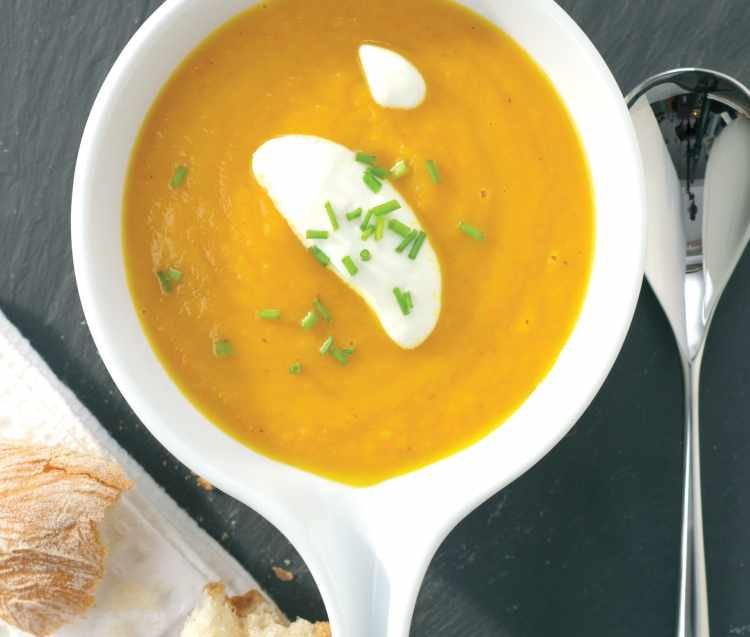 Ingredients:
600g carrots, peeled and cubed
2 large garlic cloves, peeled
2 tbsp honey
1 tsp cumin powder
a knob of butter
2cm piece of fresh ginger
1 small potato, peeled and cubed
5 shallots, diced
1 litre hot vegetable stock
100g Rachel's Greek Style Ginger Yoghurt
chopped herbs of your choice, to garnish
method:
Preheat oven to 200C/400F/Gas 6. Place the carrots and garlic in a small oven proof dish or roasting tin, and add the honey, cumin and seasoning and mix well. Roast in the oven until soft and caramelised.
Take a saucepan and melt the butter, add the ginger, potato and shallots and cook until soft. Add the roasted carrots and stir to mix.
Pour in the stock and leave to simmer for approximately 20 minutes, until all of the vegetables are tender.
Using a stick blender or food processor, blitz the soup until smooth, check the seasoning and leave to cool slightly while you prepare the chopped herbs for the garnish.
Finish with a dollop of the ginger yoghurt, and serve alone or accompanied by chunks of fresh crusty bread.
Print Recipe
www.rachelsorganic.co.uk
Did you make this recipe?
Share your creations by tagging @livegreenandgood on Instagram with the hashtag #livegreenandgood