Frylight's Perfect Pancakes
Serves: 8
Ready in: 15 to 30 mins
Is there anything better than a light crepe sprinkled with sugar and a squeeze of fresh lemon juice? We don't think so! This traditional pancake recipe is perfect for Shrove Tuesday, or any day, in fact! What's more, each spray of Frylight contains just one calorie, allowing you to save over 100 calories when using it in place of just one tablespoon of your regular pouring oil. So you can make a healthier pancake and make up for it with indulgent toppings!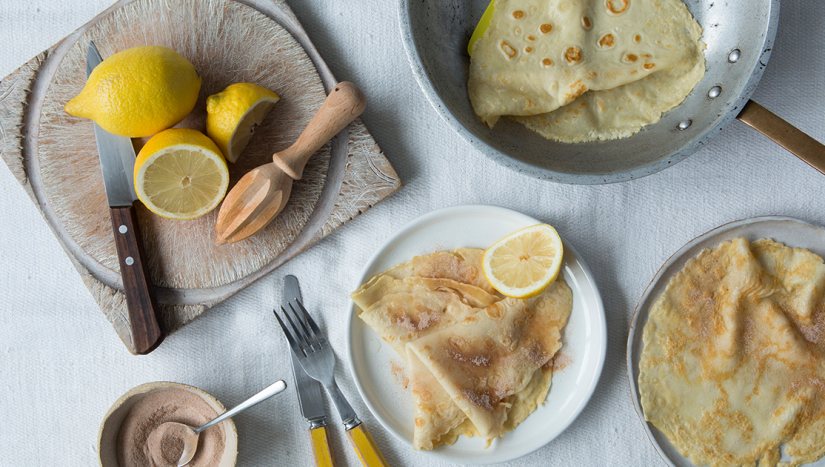 Ingredients:
Frylight
110g plain flour, sifted 
a pinch of salt
2 free-range eggs
200ml milk, mixed with 75ml water
1 tbsp butter, melted 
chocolate spread, to serve
100g strawberries, sliced
method:
Combine the sifted flour and salt in a large bowl. Make a well in the centre of the flour and add in the eggs. Start whisking the eggs to incorporate them, being careful to mix in any flour from around the bowl edge.
Slowly add in the mixed milk and water while you continue whisking. When everything has been added, whisk once again and make sure you have a smooth batter with a runny consistency (similar to condensed milk).
Mix the melted butter into the mixture.
Spray a frying pan with Frylight and place over a medium heat. Wait until Frylight is clear, then pour in the batter and tilt and rotate the pan until the batter is evenly spread. Cook for a couple of minutes, then turn (or flip!) your crêpe. Cook for another minute or so until the crêpe is firm and well-cooked in the centre.
Repeat until all of the batter is used.
To serve, spread your crêpes with chocolate spread and add sliced strawberries.
Print Recipe
www.frylight.co.uk/
Did you make this recipe?
Share your creations by tagging @livegreenandgood on Instagram with the hashtag #livegreenandgood