Aine Carlin's Flat bread pizza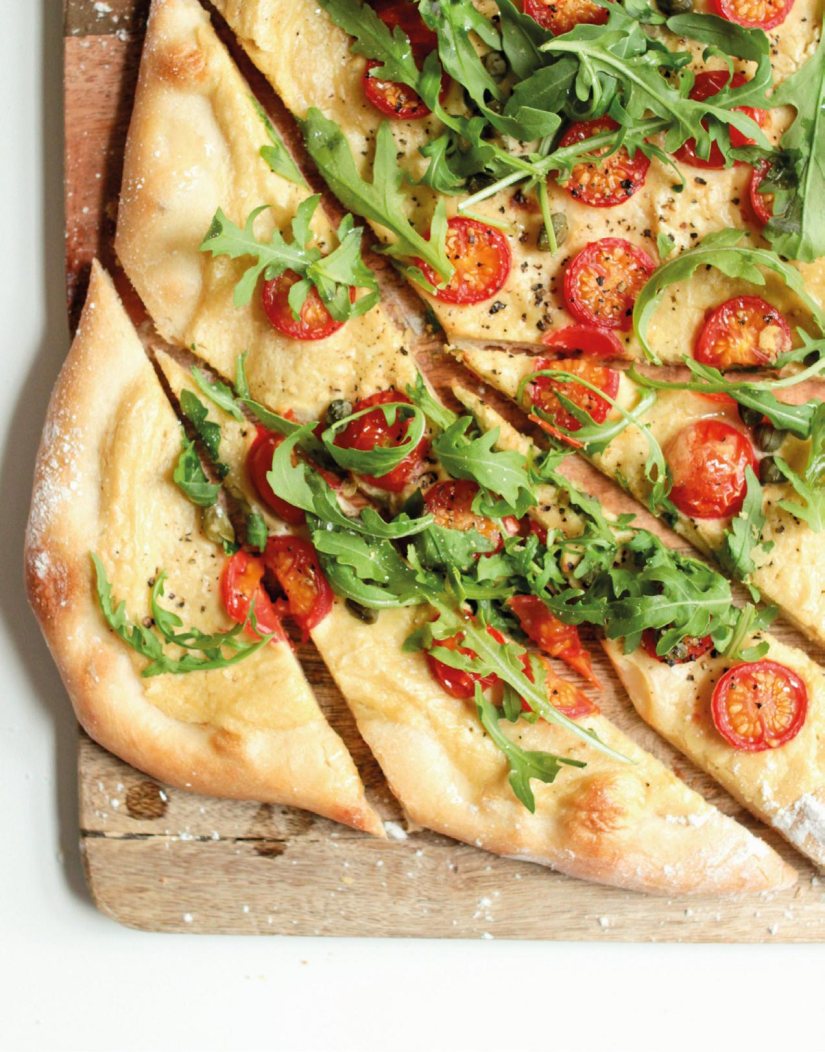 Ingredients:
For the pizza dough:
200g white spelt flour
1 tsp quick acting yeast
2 tbsp olive oil
1 tbsp maple syrup
¼ tsp fine sea salt
140ml lukewarm water
For the cashew cheese:
100g cashews, soaked
juice ½ orange
1 tsp cider vinegar
1 garlic clove
2 tbsp nutritional yeast
½ tsp sea salt
100ml water
For the toppings:
1 punnet cherry tomatoes, halved
2 tbsp baby capers
¼ tsp freshly ground black pepper
large handful of rocket
1 tbsp garlic or truffle oil
method:
Cover the cashews in filtered water and soak for 8-12 hours until they are plump and soft. Drain, rinse and add to a blender along with the orange juice, minced garlic, nutritional yeast, sea salt and water. Blend on a high speed for up to 10 minutes until it is completely smooth, scraping down the sides from time to time. Transfer to a container and refrigerate until needed.
Place the flour, yeast and salt in a bowl and whisk to combine. Make a well in the centre of the flour and pour in the warm water, olive oil and maple syrup. Using a fork, gradually work the flour into the water in a clockwise motion until it forms a rough dough ball. Turn it out onto a lightly floured surface and knead for 7-10 minutes or until it's smooth and elastic. Rub the ball in olive oil and return it to the bowl. Cover with a clean tea towel and leave it to rise in a warm place (such as an airing cupboard) for at least one hour.
Pre-heat the oven to 240C/475F/Gas 9 and halve the cherry tomatoes.
Once the dough has doubled in size, knock the air out of it before turning it out onto a lightly floured surface. Lightly knead for a minute or two before shaping it into a rough rectangle. Transfer to a floured baking sheet and liberally spread with cashew cheese – keep the remainder for dipping. Dot the top with the halved cherry tomatoes and capers before seasoning with black pepper. Bake in the pre-heated oven, on the uppermost shelf, for 12-15 minutes until the edges are golden and crisp.
Transfer to a serving board and cover with a large handful of fresh rocket. Drizzle over the garlic or truffle oil, slice and serve.
Print Recipe
www.peasoupeats.com/
Did you make this recipe?
Share your creations by tagging @livegreenandgood on Instagram with the hashtag #livegreenandgood