Filo Baskets
Serves: 9
Ready in: 15 to 30 mins
Know your nutrients
These dinky baskets are loved by children and adults alike – we challenge you to stop at just one!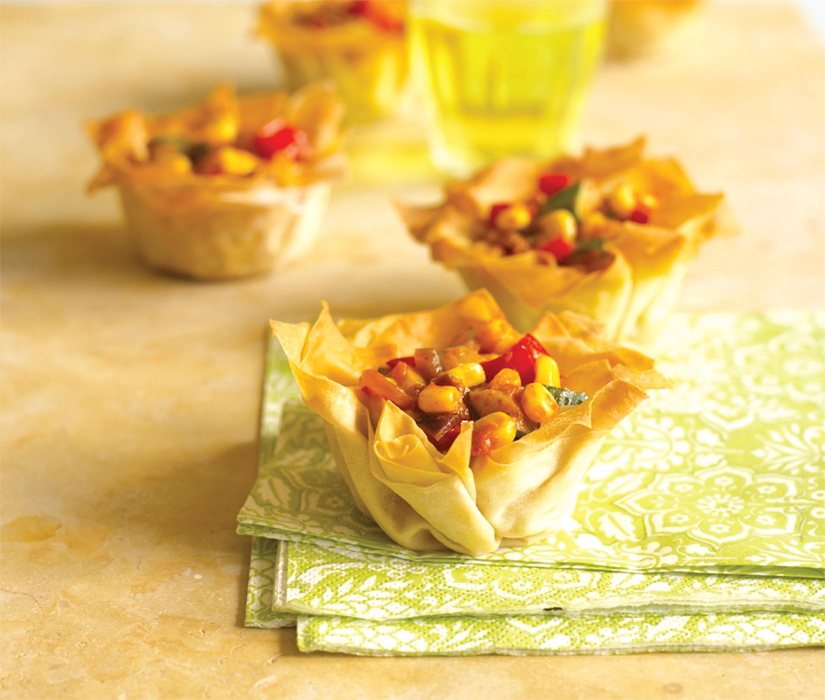 Ingredients:
1 tbsp olive oil
1 large red onion, chopped
1 large courgette, trimmed and diced small
1 large red pepper, deseeded and chopped small
1 garlic clove, crushed
198g can Green Giant Sweetcorn, drained
190g jar stir-through tomato pasta sauce
3 sheets Jus Rol Filo, thawed
25g butter, melted
method:
Heat the oven to 180C/350F/Gas 4. To make the filling heat the oil in a large frying pan, add the prepared onion, courgettes pepper and garlic and stir-fry over a medium heat, for 5-6 minutes until just softened.
Remove from the heat and stir in the sweetcorn, sauce and heat through for 3-4 minutes over a low heat.
Cut the filo pastry into approx 12cm squares, trimming the edge of the sheets if needed. Take three squares, lightly brush with melted butter then place on top of each other at different angles. Place over a hole in the muffin tin and gently ease into the base so the points stick upright to make a basket effect. Repeat with the rest of the squares.
Place in the oven to cook for 6-8 minutes until golden brown and crisp. Spoon the vegetables into the pastry cases and serve warm. Delicious!
Print Recipe
www.jollygreengiant.co.uk
Did you make this recipe?
Share your creations by tagging @livegreenandgood on Instagram with the hashtag #livegreenandgood