Double Chocolate Doughnuts
Serves: 4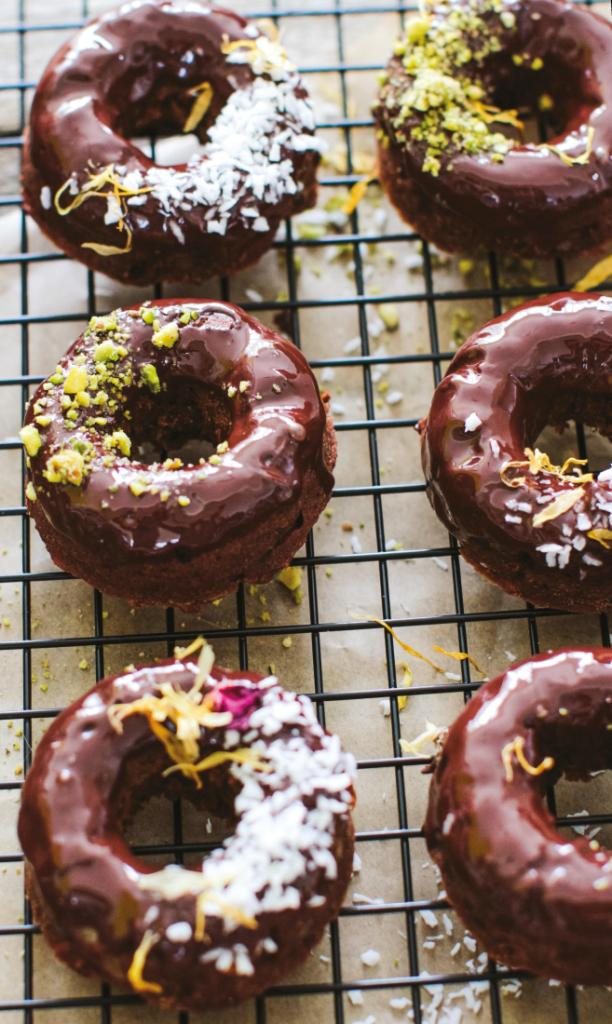 Ingredients:
120g buckwheat flour
1 tsp baking powder
Pinch sea salt
3 tbsp raw cacao
1 tsp vanilla powder
1 tsp cinnamon
½ tsp all spice
2 ripe mashed bananas
110g maple syrup
2 tbsp almond butter
3 tbsp coconut oil melted
80g coconut yoghurt
1 tsp coconut sugar
Toppings
Ombar 72% chocolate
1 tbsp coconut oil
Crushed pistachios
Dessicated coconut
method:
Preheat the oven to 175C/350F/ Gas 4. Add all the dry ingredients to a bowl and mix; add in the banana, melted coconut oil, coconut yoghurt and almond butter; mix everything well to combine.
Rub a little coconut oil in the doughnut moulds then sprinkle some coconut sugar.
Spoon 2-3 tbsp of the mix into the moulds, then bake for 15 minutes. Allow to cool a little before popping them out of the moulds.
Break up the Ombar chocolate and place in a glass bowl with the coconut oil. Half fill a saucepan with boiling hot water, and put the glass bowl over it, making sure that the glass bowl does not touch the bottom of the saucepan. Slowly heat the water, ensuring it does not boil. Check the temperature with a thermometer. When it reaches 55-58C, remove the chocolate.
Dunk the doughnuts in the melted chocolate and sprinkle with your favourite topping.
Print Recipe
Did you make this recipe?
Share your creations by tagging @livegreenandgood on Instagram with the hashtag #livegreenandgood