DAIRY- AND GLUTEN-FREE PANCAKES
Serves: 2
Cost Cutting Gluten Free‏ Quick Make
Everyone deserves to enjoy pancakes, and this recipe caters to those with gluten and dairy allergies. Don't be fooled though: that doesn't make them any less tasty! Ideal for children, too, you can top them with your favourite seasonal fruits and generous drizzles of syrup.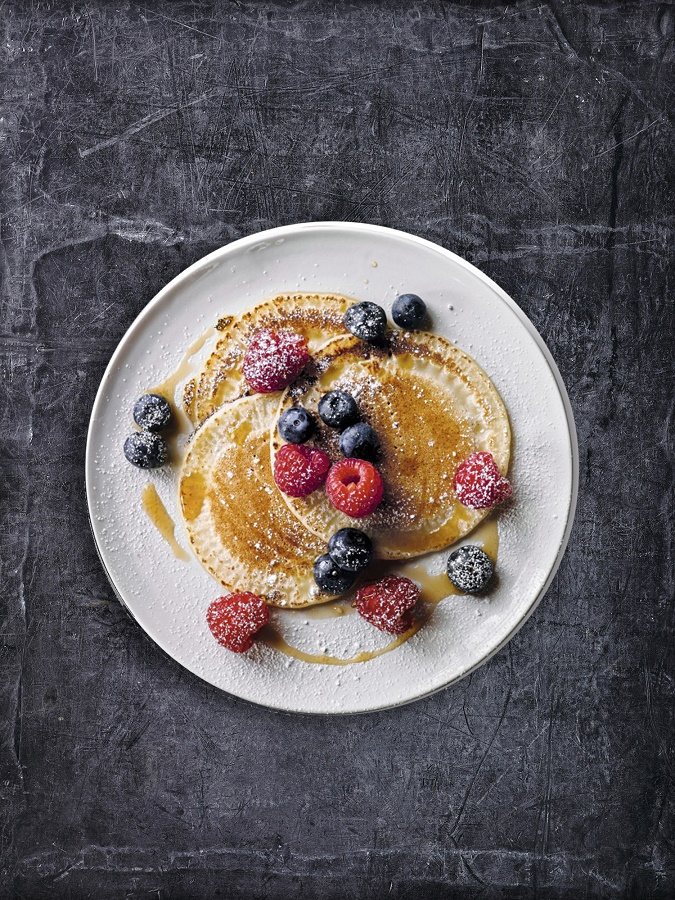 Ingredients:
100g gluten-free flour
1½ tsp caster sugar
1 medium British Blacktail free range egg, beaten
75ml almond milk, unsweetened
vegetable oil spray
100g raspberries
100g blueberries
2-3 tbsp maple syrup
½ tbsp icing sugar (optional)
method:
In a mixing bowl combine the flour and sugar. Separately in a jug beat together the egg and milk until combined. While whisking, slowly pour the egg and milk mixture into the flour, mix well to ensure you have a smooth batter.
Preheat a non-stick frying pan over a medium heat. Once hot, spray the pan with the oil until you have a light covering – this should be around 4-5 sprays. Next, slowly pour the mix into the pan. You should be able to fit three in each time, making sure each pancake measures around 9cm. After 1-2 minutes the pancake should be 
a light golden brown; carefully flip and repeat on the other side. Keep
the pancakes warm while you cook the second batch.
Serve three pancakes on a plate and scatter with the raspberries and blueberries, then drizzle over the maple syrup and dust with the icing sugar.
Print Recipe
www.waitrose.com/content/waitrose/en/home/recipes/recipe_directory/g/dairy-and-glutenfreepancakes.html
Did you make this recipe?
Share your creations by tagging @livegreenandgood on Instagram with the hashtag #livegreenandgood