Crispy Fenland Celery and Fennel Salad with Cranberries and Orange
Serves: 4
Cost Cutting Eco Friendly Gluten Free‏ Quick Make Vegan Friendly
A perfect crunchy and varied salad for a buffet, serve with baked potatoes to bring out the array of wonderful flavours.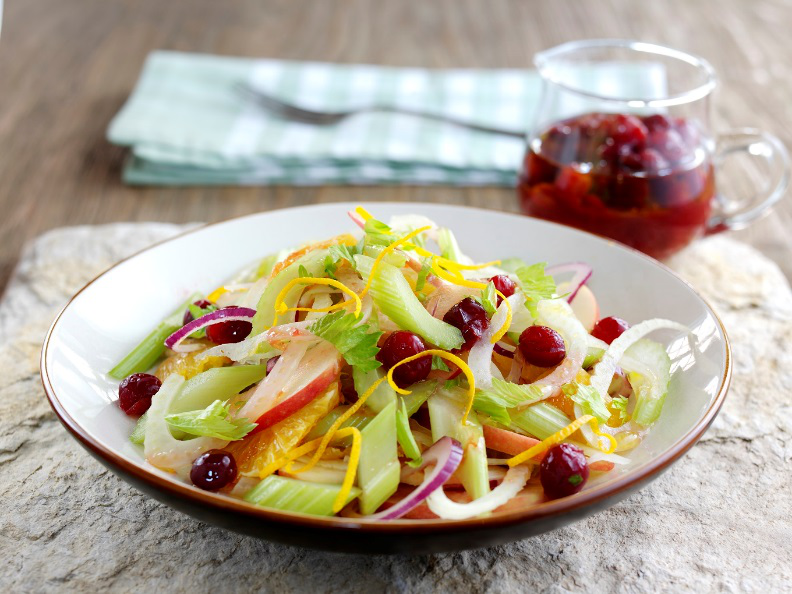 Ingredients:
6 sticks Fenland celery, thinly sliced at an angle, reserve green leaves
1 large fennel bulb, thinly sliced
1 red onion, peeled, halved and thinly sliced
1 apple, thinly sliced
2 oranges, remove zest before cutting away the skin, thinly sliced
For the maple and orange dressing
150g cranberries
3 tbsp maple syrup
4 tbsp olive oil
1 tbsp red wine vinegar
1 tbsp lemon juice
2 tbsp orange juice
method:
First make the dressing by placing the cranberries in a small saucepan with the maple syrup, cook until softened a little but still holding their shape, cool. Mix together the olive oil, vinegar, lemon and orange juice and the cooled cranberries.
Mix together the Fenland celery, fennel and red onion, pile onto a serving platter, add the Pink Lady apple slices and oranges.
Pour over the dressing, lightly toss together and serve sprinkled with some torn green leaves from the Fenland celery and the reserved orange zest.
Print Recipe
www.fenlandcelery.com/
Did you make this recipe?
Share your creations by tagging @livegreenandgood on Instagram with the hashtag #livegreenandgood