Cranberry and Apple Muesli Bars
Serves: 12
Ready in: 30 to 60 mins
Flapjack-style cereal bars tend to be loaded with butter, but here a combination of fresh apple purée, flax seeds and chia seeds are used instead of butter and eggs to moisten and bind the ingredients together and make a healthier low-fat, dairy-free alternative. Recipe extracted from The Vegan Dairy by Catherine Atkinson (Lorenz Books, £15)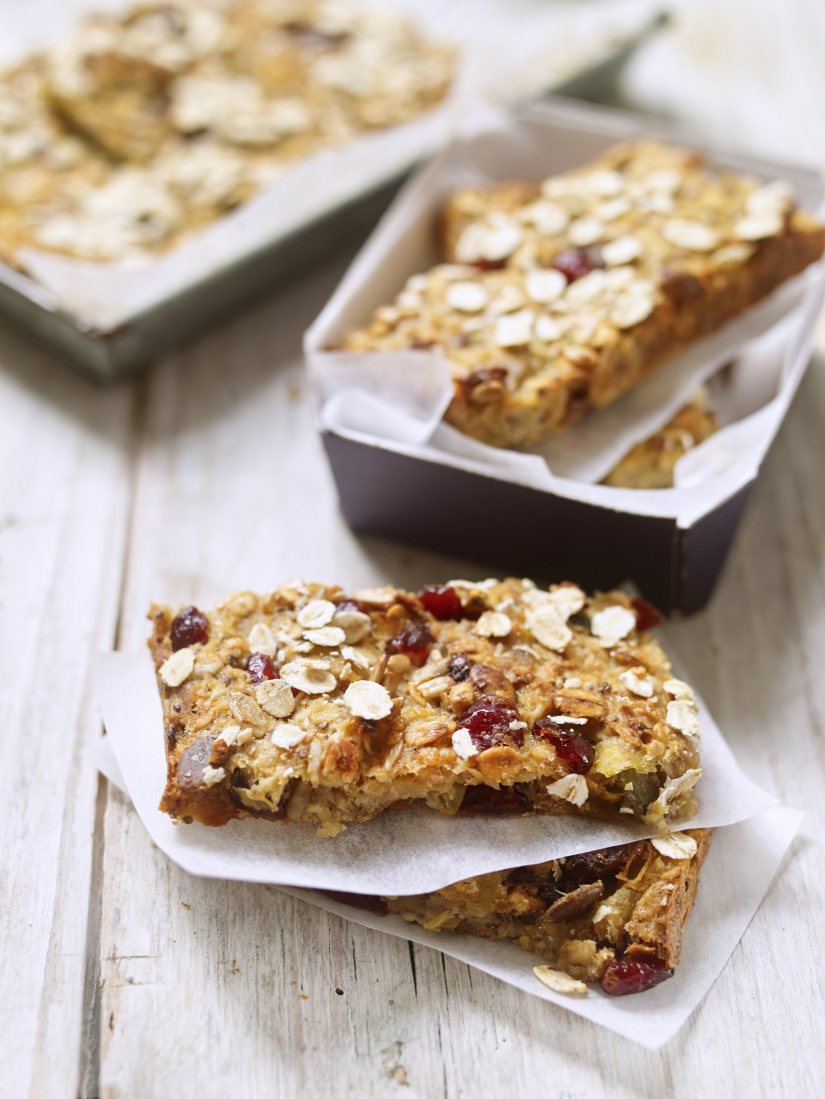 Ingredients:
250g dessert apples, cored and diced (no need to peel)
75ml water
30ml coconut oil
1 tbsp ground flax seeds
150g sugar-free muesli (see below)
2 tsp chia seeds
2 tbsp dried cranberries
50g light muscovado/brown sugar
For the sugar-free muesli:
100g jumbo rolled oats
75g barley flakes
75g rye flakes
50g quinoa flakes
4 tbsp sunflower seeds
4 tbsp pumpkin seeds
method:
To make the muesli, simply put all the ingredients in a bowl and mix together. Spoon into a jar, screw or clip on the lid and store in a cool place for up to 4 weeks, using as required.
To make the muesli bars, preheat the oven to 180C/350F/Gas 4. Line the base and sides of a shallow 20cm square cake tin with baking parchment.
Put the apples, 2 tbsp water and coconut oil in a medium pan, cover and simmer for about 5 minutes, until the apples are soft.While the apples are cooking, blend the flax seeds with the remaining 3 tbsp water in a small bowl and leave to soak.
Mash the apples in the pan, then stir in the flax seed mixture. Stir in the muesli, chia seeds and cranberries, then mix in the sugar. Tip into the lined tin and press into an even layer with the back of a spoon.
Bake for 30–35 minutes, until golden-brown. Mark into bars and leave to cool in the tin.
When cold, lift the paper and muesli bars out of the tin, peel off the paper and cut into bars. Store in an airtight container in the fridge for up to 2 days. You can use all sorts of dried fruits instead of cranberries in these tasty bars – raisins, sultanas, dried cherries, or larger fruits such as dried apricots, figs, dates or prunes which you should snip into smaller pieces.
Print Recipe
www.waterstones.com/book/the-vegan-dairy/9780754834861
Did you make this recipe?
Share your creations by tagging @livegreenandgood on Instagram with the hashtag #livegreenandgood