Coconut Raspberry Friands
Serves: 6
Ready in: 30 to 60 mins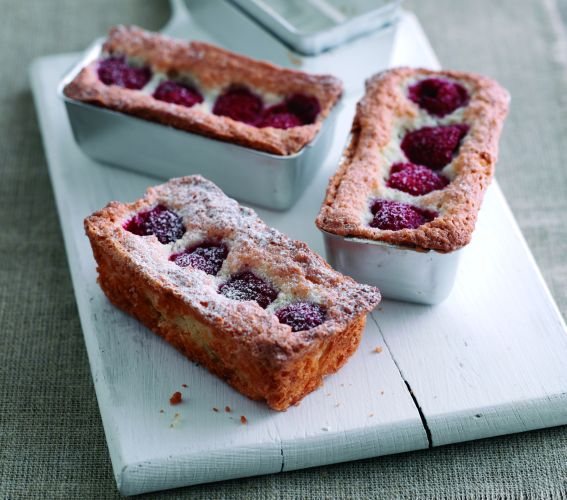 Ingredients:
75g butter
grated rind of 1/2 lemon
3 medium free-range egg whites
100g icing sugar
40g plain flour
50g desiccated coconut
25g ground almonds
100g frozen raspberries, defrosted
sifted icing sugar, to decorate
method:
Lightly oil 6 individual 150ml metal friand or mini loaf tins and line the bases with a little greaseproof or nonstick baking paper then put the tins onto a baking sheet.Warm the butter and lemon rind in a small saucepan until the butter has just melted.Leave to cool.
Whisk the egg whites in a large,clean bowl until they form stiff,moist looking peaks then gradually add the sugar a little at a time (no need to sift first) and continue to whisk until smooth and glossy.
Sift the flour over the top,add the coconut and ground almonds and gently fold together.Gradually stir in the melted butter until just mixed.
Divide the mixture between the tins then smooth the surface.Press 4 or 5 raspberries,depending on their size,into the cakes.Cook at 200°C/400°F/Gas Mark 6 for 15-20 minutes until the tops are golden and a skewer comes out cleanly when inserted into the centre.
Leave to cool for 5 minutes then loosen the edges with a knife,turn out onto a wire rack and dust the top with a little sifted icing sugar.Serve warm or cold.
Print Recipe
www.seasonalberries.co.uk
Did you make this recipe?
Share your creations by tagging @livegreenandgood on Instagram with the hashtag #livegreenandgood