Chickpea Burgers with Halloumi Burger Slices
Serves: 4
Ready in: 30 to 60 mins
Know your nutrients
Take your barbecue from the humdrum to the extraordinary with these super tasty burgers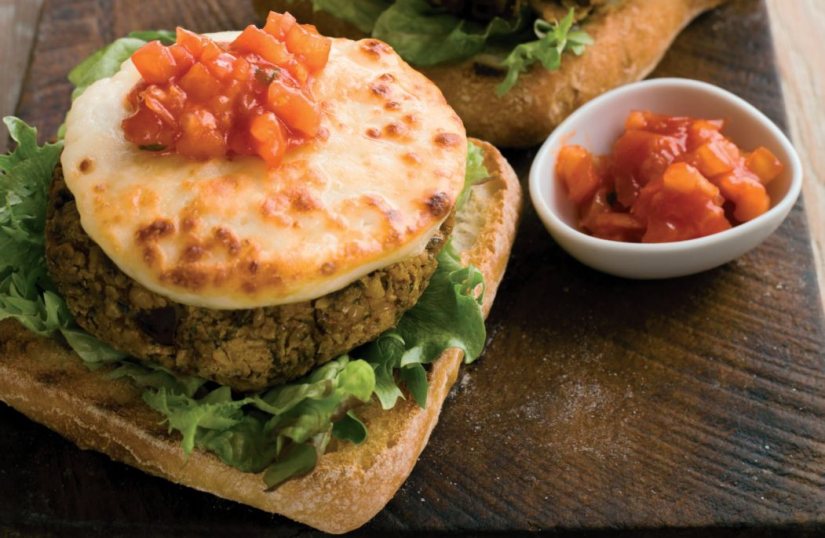 Ingredients:
2 tbsp olive oil
1 small onion, chopped
1 garlic clove
1 tsp cumin seeds
2 x 400g chickpeas, rinsed and drained well
1 tbsp harissa paste
150g chargrilled aubergines, drained and chopped
50g fresh breadcrumbs
1 free-range egg
1 tbsp grated lemon zest
1 tbsp lemon juice
2 tbsp coriander, chopped
2 tbsp mint, chopped
salt and black pepper
4 Yamas! Halloumi Burger Slices
4 large buns
crisp salad leaves
4 tbsp tomato salsa
method:
Heat 1 tbsp of the oil in a small frying pan and cook the onion, garlic and cumin seeds for 2-3 minutes, until softened.
Tip into a food processor with all the remaining burger ingredients, season with salt and freshly ground black pepper and pulse until combined. Divide the mixture into four and shape into burgers. Chill in the refrigerator for 30 minutes.
Preheat the grill to high. Place the burgers on a non-stick baking tray and brush the tops of the burger with the remaining oil. Cook the burgers for six minutes on one side, carefully turn over and cook the other side for four minutes. Place a halloumi slice on top of each burger and grill for a further 3-4 minutes until the cheese starts to brown. Serve in rolls with lettuce and salsa.
Print Recipe
www.yamasdairy.com
Did you make this recipe?
Share your creations by tagging @livegreenandgood on Instagram with the hashtag #livegreenandgood