Chicken Style Moroccan Couscous Salad
Serves: 4
Ready in: 30 to 60 mins
This is inspired by a supermarket salad that is ideal to take to work for lunch, or as an alfresco Summer night dinner. There's lots of different parts to this salad but many can be be prepared and different times and just assembled together when required. I've only ever eaten this cold but I imagine it would work well as a warm salad too!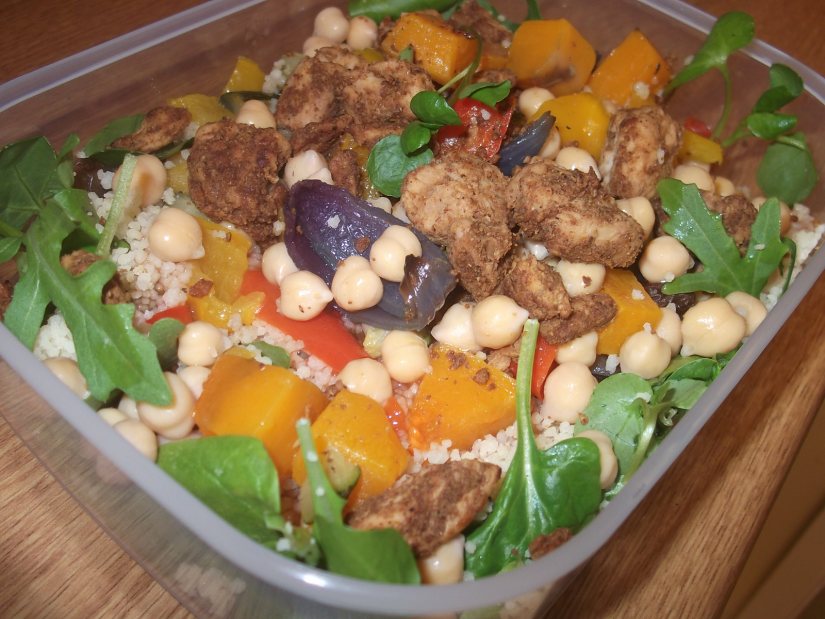 Ingredients:
For the Moroccan spiced Quorn:

1 bag Quorn chicken style pieces
3 tsp grated nutmeg
3 tsp cumin
3 tsp ground coriander
1.5 tsp allspice
1.5 tsp ground ginger
1 tsp cayenne pepper
1 tsp cinnamon
Salt to taste
Enough oil to make into a marinade


For the roasted vegetables:

1 large red onion (cut into wedges)
300g butternut squash (cut into 1-2cm cubes)
1 courgette (cut into 2cm pieces)
1 red pepper (large pieces)
1 yellow pepper (large pieces)


For the Couscous:

200g Couscous
10 dried apricots (chopped)
Large handful of sultanas
1 tbsp mint


For the salad:

1 bag of rocket, watercress and spinach salad
1 tin chickpeas
Salad dressing (I used a shop bought tomato and chilli dressing)
Houmous to serve (if desired)
method:
Place the spices and salt into a mixing bowl and add enough oil to make a marinade. Add the Quorn pieces and stir to fully coat. Leave for a few hours (or overnight if possible) in the fridge. Fry until slightly browned and set aside.
Place the vegetables in a roasting tin with some oil and cook at 200 degrees C. I tend to put the red onion and butternut squash in for 45 minutes, then add the courgette and peppers cooking them for around 30 minutes. Set aside.
Add the sultanas, mint and apricots to the couscous with a little seasoning and make according to pack instructions. Fluff up with a fork.
To assemble, place a large handful of the rocket, watercress and spinach salad on each plate or in large tupperware containers and cover with the couscous. Drain and pat dry the chickpeas and divide them between the plates. Divide out the roasted veg and top it off with the Quorn pieces.
Add dressing and a generous dollop of houmous if using.
Print Recipe
Did you make this recipe?
Share your creations by tagging @livegreenandgood on Instagram with the hashtag #livegreenandgood