Chantenay Vegetable Chilli
Serves: 4
Ready in: 30 to 60 mins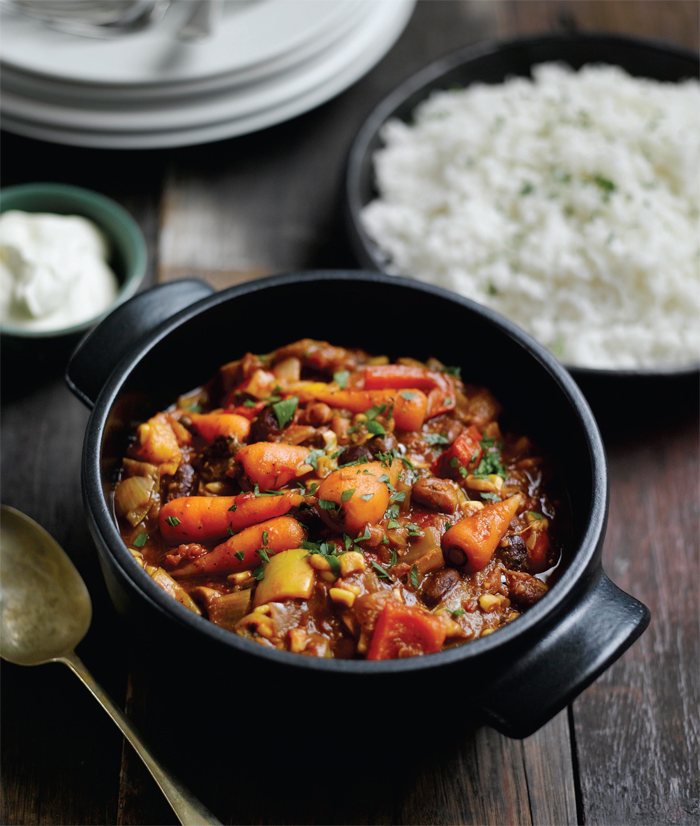 Ingredients:
1 tbsp olive oil
1 medium onion, chopped
2 garlic cloves, crushed
250g chantenay, whole and unpeeled
350g mixed vegetables, chopped eg tinned sweetcorn, courgettes, mushrooms, red, yellow and green peppers
2 tsp ground cumin
2 tsp ground coriander
2 tsp dried oregano
1-2 tsp dried chilli flakes
1 tsp paprika (smoked or unsmoked)
1 tin mixed beans
1 tin chopped tomatoes
300ml boiling water
sea salt
freshly ground black pepper
[hd]to serve[/hd]
sour cream or crème fraîche
fresh coriander leaves, roughly chopped
method:
Fry the onion in the olive oil in a large saucepan with a lid until soft (about five minutes). Add the garlic and fry for a further minute.
Combine the chantenay, the chopped mixed vegetables and the spices and fry for about 2-3 minutes, or until the lovely spice aromas begin to rise from the pan.
Finally, add the mixed beans, tinned tomatoes and boiling water and bring everything up to the boil. Cover the pan and reduce the heat to a gentle simmer and cook for around 20-25 minutes or until the vegetables are tender. Check after 15 minutes or so and if the sauce is a little thin uncover for the remaining cooking time.
Serve sprinkled with the chopped coriander and a dollop of sour cream or crème fraîche.
Print Recipe
www.chantenay.co.uk
Did you make this recipe?
Share your creations by tagging @livegreenandgood on Instagram with the hashtag #livegreenandgood