Chana Dhal with Spicy Roasted Vegetables
Serves: 4
Cost Cutting Freezes Well Vegan Friendly
This curry makes the perfect Christmas Eve dinner – it'll keep warm on the hob meaning Christmas guests can tuck in to some great grub as and when they arrive. Just refresh each serving using the lime juice and coriander leaves.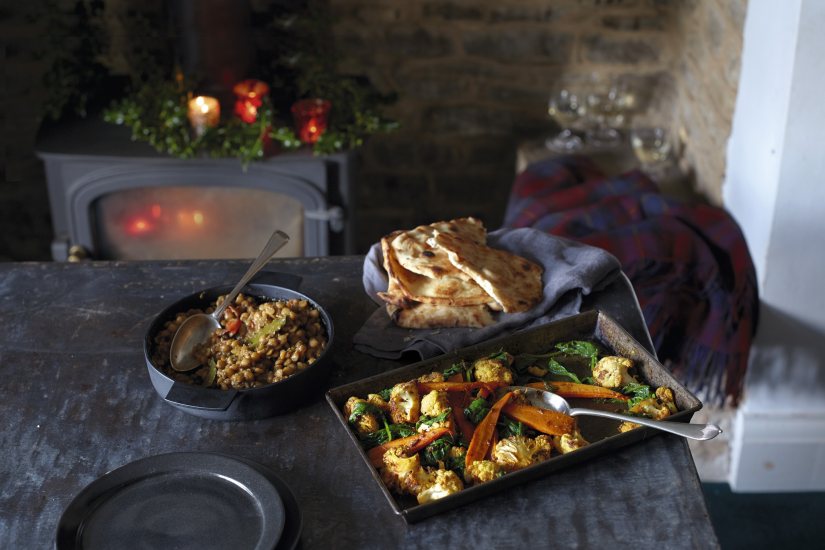 Ingredients:
350g Love Life Yellow Split Peas
1 tbsp vegetable oil
2 red onions, peeled and chopped
4 garlic cloves, finely chopped
4cm piece fresh ginger, peeled and finely chopped
28g pack fresh coriander, leaves and stalks chopped separately
1 red chilli, halved lengthways
2 bay leaves
2 tbsp garam masala
2 tsp ground cumin
4 tomatoes, roughly chopped
1 litre vegetable stock
2 limes, juiced
For the roasted vegetables:
2 tbsp vegetable oil
1 whole cauliflower, florets only
4 carrots, peeled, halved lengthways and sliced into 2cm diagonals
2 tsp cumin seeds
¾ tsp ground turmeric
1 tsp paprika
2 tsp garam masala
1 tsp black mustard seeds
115g pack baby spinach
method:
Soak the split peas in cold water for one hour then drain.
Heat the oil in a large saucepan and cook the onion for five minutes. Add the garlic and ginger, coriander stalks, chilli and bay leaves and cook for a further one minute. Sprinkle in the garam masala and cumin and fry, stirring almost continuously, for 30 seconds.
Add the tomatoes, drained split peas and stock. Bring to the boil and simmer gently for one hour 30 minutes until the peas are very tender. Stir in the lime juice and scatter with coriander leaves.
Meanwhile, to make the roasted vegetables, preheat the oven to 200C/400F/Gas 6. Pour the oil into a large, shallow baking tray and place in the oven for five minutes to warm up. Add the cauliflower and carrots, toss to coat in the oil and roast for 10 minutes.
Mix together the cumin seeds, turmeric, paprika, garam masala and black mustard seeds. Sprinkle over the vegetables, turning to coat, then return to the oven for 10–15 minutes until the veg are tender. Stir the spinach through until wilted then serve alongside the dhal. Delicious with warm naan bread and steamed basmati rice.
Print Recipe
www.waitrose.com
Did you make this recipe?
Share your creations by tagging @livegreenandgood on Instagram with the hashtag #livegreenandgood