Carrot, Asparagus and Beetroot Salad with a Creamy Tahini Dressing
Serves: 3
Cost Cutting Eco Friendly Gluten Free‏ Quick Make Vegan Friendly
If you have a spiralizer, carrots are a great vegetable to use as they're fairly sturdy and you can prepare them well in advance.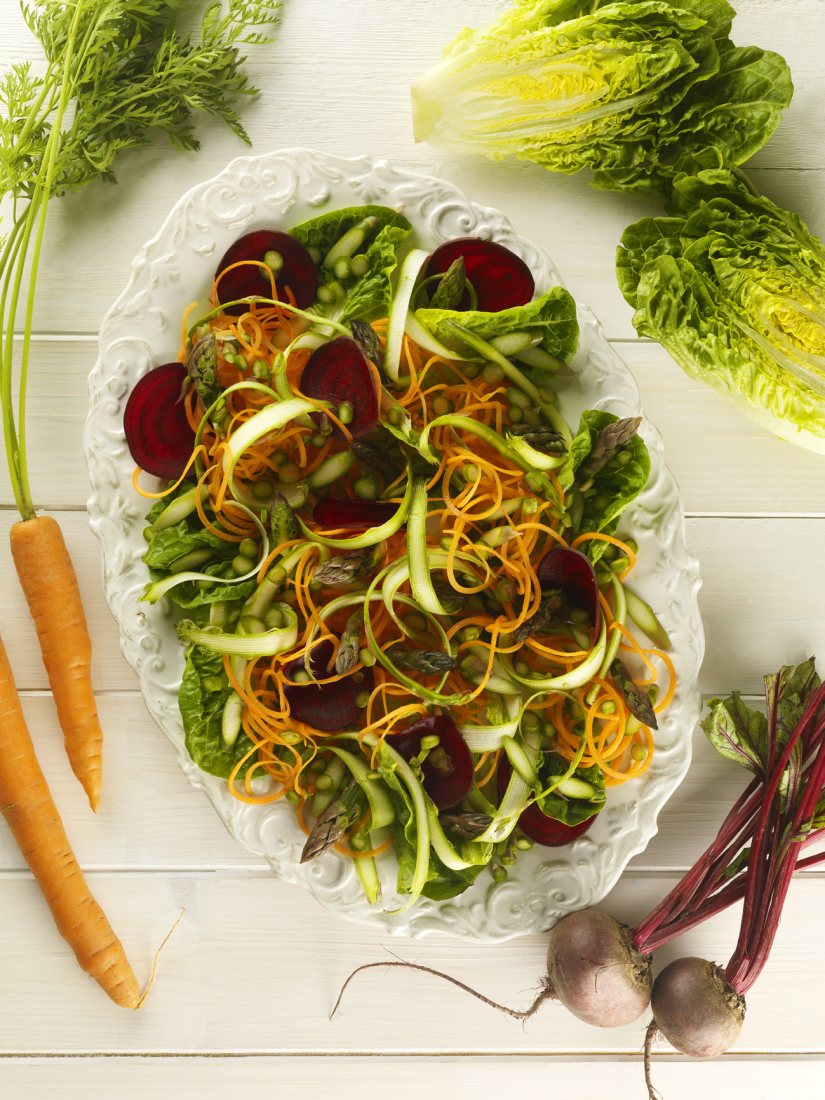 Ingredients:
For the salad:
3-4 large carrots
1 head of lettuce
300g asparagus spears
2 medium beetroot
For the dressing:
3 tbsp tahini (or alternatively peanut butter)
3 tbsp orange juice
1 tbsp water
salt and pepper
method:
To make the salad wash the carrots and peel them (unless they're organic) and spiralise into noodles or just grate coarsely. If you've got organic carrots with tops then reserve some of the leaves to chop and sprinkle over the salad, they're a great source of addition nutrients
Wash the asparagus and snap off the woody part of the stems. Cut off the tips and reserve then slice the remaining stems into ovals, disks or peel into thin ribbons, or do all 3 different cuts as we have done in the recipe photograph here.
Scrub the beetroot and reserve any small leaves to decorate the salad if desired. Cut the beetroot into wafer-thin slices using a very sharp knife or ideally a mandolin.
Separate the little gem lettuce into individual leaves then wash and dry well. Break the leaves into bite sized pieces them place on a large serving platter or bowl with the other salad ingredients.
To make the dressing whisk together all the dressing ingredients and pour over the salad, mixing gently to combine.
Print Recipe
www.sainsburys.co.uk/
Did you make this recipe?
Share your creations by tagging @livegreenandgood on Instagram with the hashtag #livegreenandgood