Carrot and Cumin Pancake Canapes
Serves: 7
Ready in: 30 to 60 mins
Know your nutrients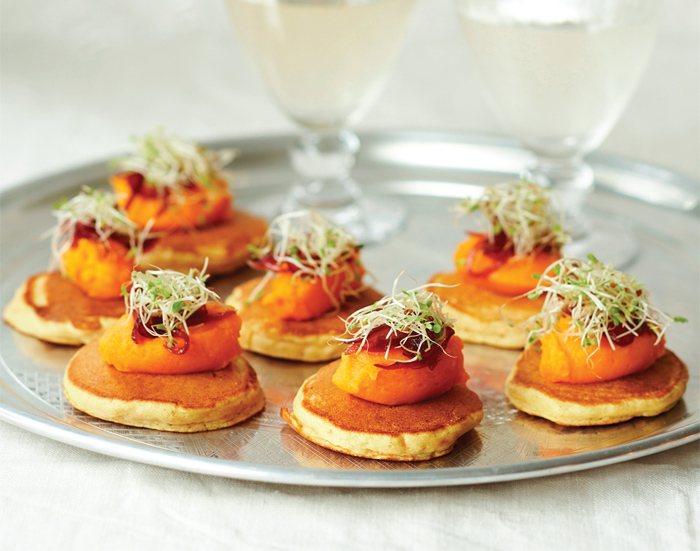 Ingredients:
[hd]for the pancakes[/hd]
20g semolina flour
50g gram flour
1 small carrot, grated
1 tsp ground cumin
1 tsp salt
1/4 tsp fennel seeds
pinch chilli flakes
1/2 tsp baking powder
3 tbsp Provamel sweetened soya milk
1 tbsp Provamel plain yofu
1 free-range egg
1 tbsp sunflower oil
[hd]for the carrot butter[/hd]
2 carrots, sliced
1 tbsp tahini paste
1 dsp soy sauce
[hd]For the sweet red onion[/hd]
1 medium red onion finely sliced
2 tbsp caster sugar
1 tbsp red wine vinegar
20g alfalfa sprouts to serve
method:
Put the sugar and water in a small pan and stir until dissolved. Bring the sugar and water to the boil over a moderate heat and cook to a dark caramel. Remove from the heat and add the onions and vinegar. Return to the heat and continue cooking until soft for a further five minutes. In another pan, place the carrots with enough water to cover them and bring to the boil. When the carrots are soft whizz them up in a mini blender with the tahini and soy sauce. Place the semolina flour, gram flour, baking powder, cumin, fennel, chilli and salt in a mixing bowl and combine. Whisk in the soya milk, soya yoghurt and egg. Grate in the carrot.
Heat the oil in a non-stick frying pan over a moderate heat. Drop in teaspoons of the mixture in batches of 4-5 into the frying pan. Cook until bubbles start to appear and the underside is golden before flipping and browning the other side.
Assemble the pancakes on a large serving plate, add a tsp of the carrot butter, a few strands of the red onion and top with a sprinkle of alfalfa.
Print Recipe
www.provamel.co.uk
Did you make this recipe?
Share your creations by tagging @livegreenandgood on Instagram with the hashtag #livegreenandgood