California Walnut Cheese Tear N Share Scones
Serves: 10
Ready in: 30 to 60 mins
Walnuts add a welcome texture to these savoury scones.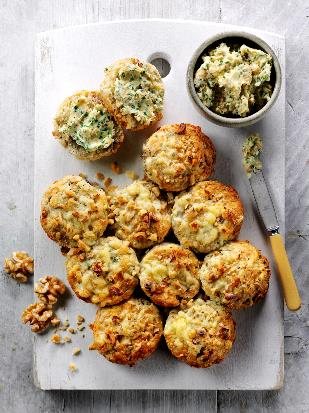 Ingredients:
225g self-raising flour
1 tsp baking powder
1 tsp English mustard powder
100g butter, diced
100g Cheddar cheese, grated
75g California Walnut Pieces, chopped + 25g for the butter
3 tbsp chopped chives
150ml milk
method:
Preheat the oven to 200C/400F/Gas 6. In a large bowl, mix together 225g of self-raising flour, and a teaspoon each of baking powder and English mustard powder. Rub in 50g of diced butter, until it resembles breadcrumbs. Stir in 75g of Cheddar cheese, about 45g of walnuts and two tablespoons of chives.
Using a round-bladed knife, mix in 150ml of milk to get a soft dough, taking care not to over-knead it.
Transfer the dough to a floured surface and roll out until two centimetres-thick. Cut out 10 6cm rounds, then arrange them in a circle on a lined baking tray. Brush each scone with milk. Mix 25g of Cheddar with two tablespoons of walnuts, then sprinkle on top of the scones. Bake for 20-25 minutes, until golden.
Meanwhile, make a walnut butter by softening 50g of butter, and mixing in a tablespoon of chives and 25g of finely chopped walnuts.
Serve the scones warm with your walnut butter.
Print Recipe
www.californiawalnuts.co.uk
Did you make this recipe?
Share your creations by tagging @livegreenandgood on Instagram with the hashtag #livegreenandgood