Broccoli Tabbouleh Salad
Serves: 1
Ready in: 15 to 30 mins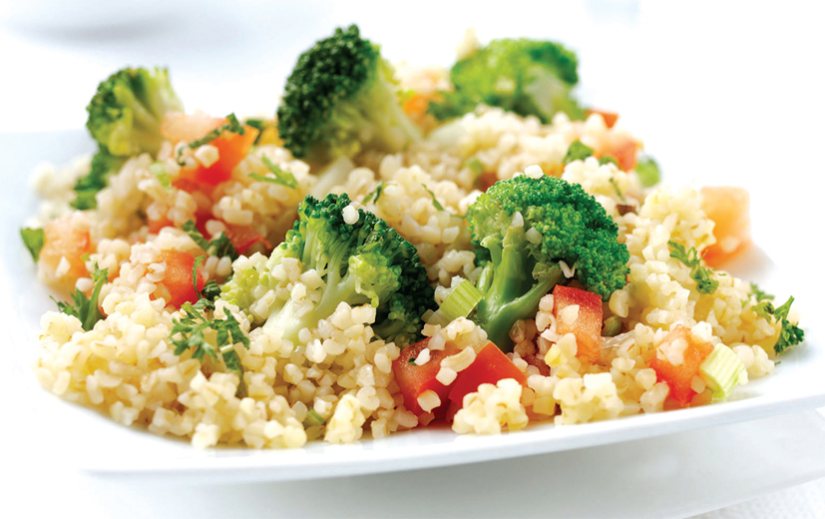 Ingredients:
1/2 cup (about 50g) cracked wheat
125g small, broccoli florets
2 ripe plum tomatoes
2 spring onions
2 tbsp chopped fresh mint
2 tbsp chopped fresh parsley
1 tbsp olive oil
juice of 1 small lemon
method:
Put the cracked wheat in a small saucepan with one cup of water (about 150ml). Bring slowly to the boil, then bubble gently for 10 minutes or until most of the water has evaporated away. Take the pan off the heat, cover with a lid or clean tea towel and leave to steam for 10 minutes.
Meanwhile, drop the broccoli florets into a pan of boiling salted water and cook for about 3-5 minutes or until the broccoli is just tender but still quite crunchy. Drain and run under cold water to prevent it from overcooking.
Roughly chop the broccoli. Finely chop the tomatoes and spring onions. Stir the wheat with a fork to break up the grains then tip into a salad bowl.
Add all the other ingredients plus some salt and pepper to taste. Add an extra squeeze of lemon to taste. The salad should be quite sharp and slightly salty.
Print Recipe
www.thinkvegetables.co.uk
Did you make this recipe?
Share your creations by tagging @livegreenandgood on Instagram with the hashtag #livegreenandgood