British Berry Sherry Trifle
Serves: 8
Ready in: 15 to 30 mins
A quick-to-make pudding with layers of flavour, this dessert is ideal to serve at a traditional British celebration, making the most of fine British produce and ingredients. For even more flavour, use fresh berries in the summer, when available.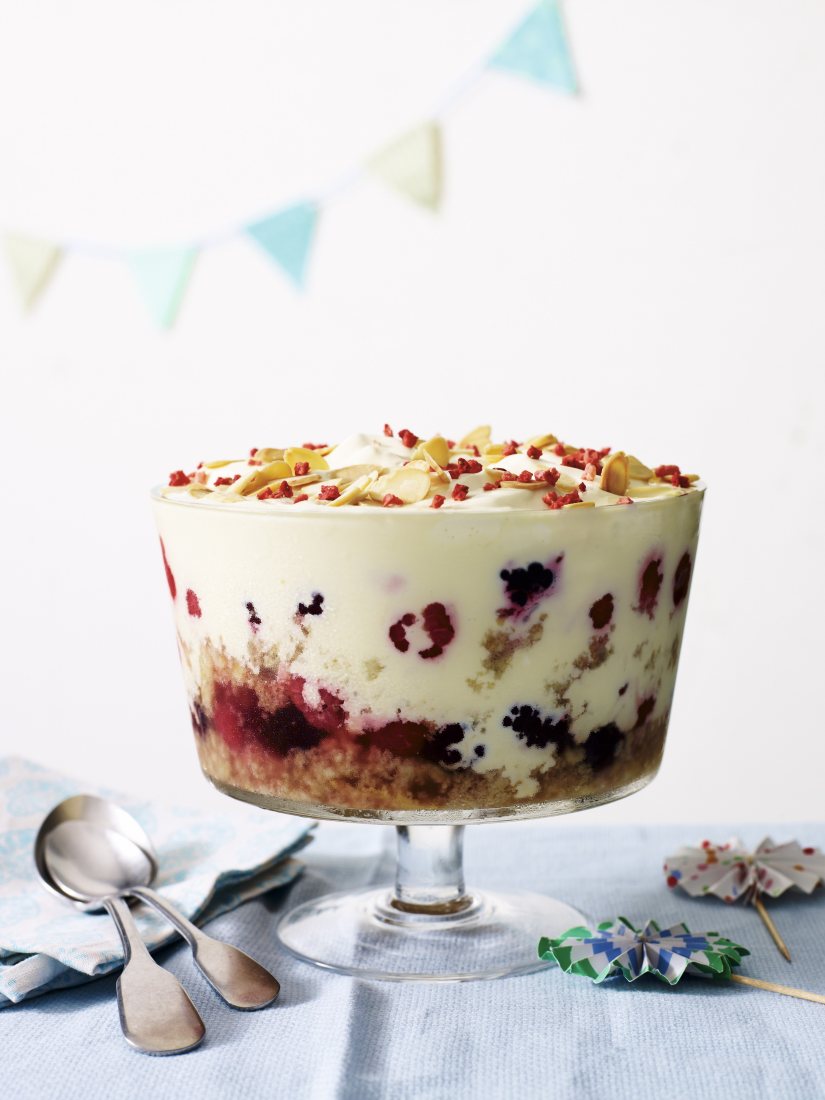 Ingredients:
300g pack Waitrose Frozen British Raspberries 300g pack Waitrose Frozen British Blackberries 2 tbsp icing sugar 100ml Waitrose Berry Red Smoothie 1 Waitrose Madeira Loaf Cake, cut into 16 pieces 100ml Waitrose Cream Sherry 250g tub essential Waitrose Creamy Soft Cheese ½ x 500g tub essential Waitrose Fresh Custard 300ml tub Waitrose Extra Thick Double Cream 2 tbsp toasted flaked almonds 2 tsp Cooks' Homebaking Freeze Dried Strawberries
method:
Place the berries in a bowl and gently stir in the icing sugar and berry smoothie. Set aside for 5-10 minutes.
Meanwhile, crumble half of the Madeira cake into the base of a large glass serving bowl. Drizzle over half of the sherry and set aside for five minutes, then spoon over half of the berries and some of the liquid from the bowl. Crumble the remaining cake on top, sprinkle with the rest of the sherry, then spoon over the last of the berries and any juices.
In a separate bowl, whisk the soft cheese until smooth, then add the custard, whisking until well-blended. Pour over the fruit, then cover the bowl and chill in the fridge.
When ready to serve, spoon the extra thick double cream over the top of the custard layer. Scatter over the almonds and freeze dried strawberries, and serve.
To make individual servings, prepare the trifle mixture in eight wine glasses, layering up the ingredients to get the same effect.
Print Recipe
www.waitrose.com/content/waitrose/en/home/recipes/recipe_directory/b/british-berry-trifle.html
Did you make this recipe?
Share your creations by tagging @livegreenandgood on Instagram with the hashtag #livegreenandgood