Beetroot Rainbow Bowls with Sesame-Crusted Tofu
Serves: 2
Ready in: 15 to 30 mins
As tasty as they are vibrant, these rainbow bowls are a great way to pack in some veggies to your lunchtime meal.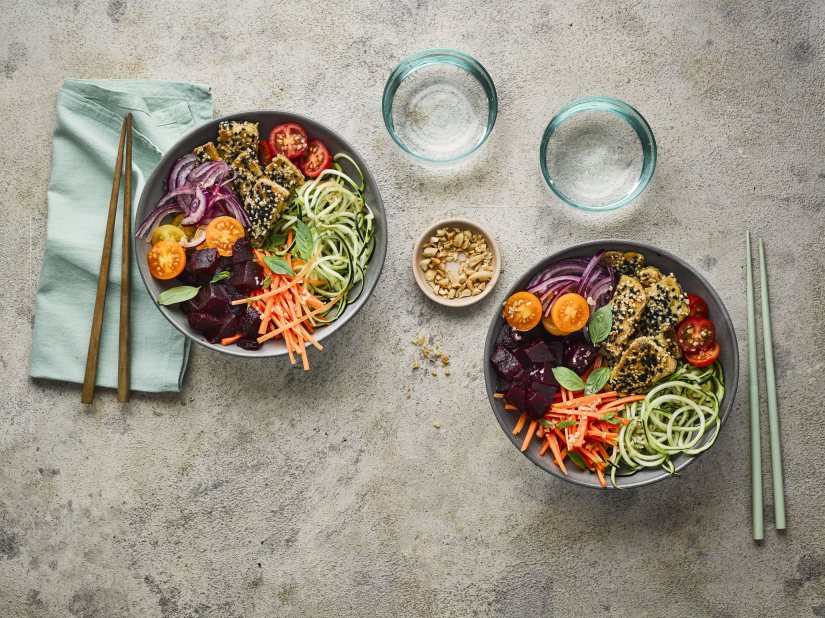 Ingredients:
For the dressing:
1 lime, juiced
2½ tsp vegetarian fish sauce
2½ tsp rice wine vinegar
1 tsp soft brown sugar
1 garlic clove, crushed
2cm piece ginger, finely diced
For the rainbow bowls:
150g cherry tomatoes
1 carrot
180g courgette, spiralised (approx 2 small courgettes)
½ small red onion
180g Love Beets Honey + Ginger Diced Beetroot (1 pack)
1 red chilli
a handful of chopped coriander, torn
handful Thai basil leaves, torn
1 tbsp peanuts, roasted and chopped
For the sesame-crusted tofu:
280g firm tofu
30g sesame seeds
1 tbsp gluten-free cornflour
2 tbsp sesame oil
method:
To make the dressing, whisk together the vegetarian fish sauce, lime juice, garlic, sugar and ginger until combined and set aside.
To prepare the fresh bowl elements, quarter the tomatoes, peel and slice the carrot into matchsticks, thinly slice the red onion and chilli and roughly chop the herbs. Use a spiraliser to create courgette noodles. Add the Love Beets Honey + Ginger Diced BeetrootArrange each ingredient in a separate compartment of two serving bowls, leaving a space for the tofu.
Drain the tofu, slice into 0.5cm pieces and press between two sheets of kitchen towel to remove excess liquid.
Combine the sesame seeds and cornflour in a bowl with a large pinch of salt. Press each tofu piece into the cornflour mix and turn until coated.
Add the sesame oil to a large saucepan, set over a medium-high heat, add the tofu and cook for 3-4 minutes, turning from time to time, until golden.
Add the tofu to the bowls, spoon over the dressing and peanuts and serve.
Print Recipe
www.lovebeets.co.uk/
Did you make this recipe?
Share your creations by tagging @livegreenandgood on Instagram with the hashtag #livegreenandgood