Aubergine Tabasco Salad with Fennel & Orange
Serves: 6
Ready in: 15 to 30 mins
Eco Friendly Quick Make Vegan Friendly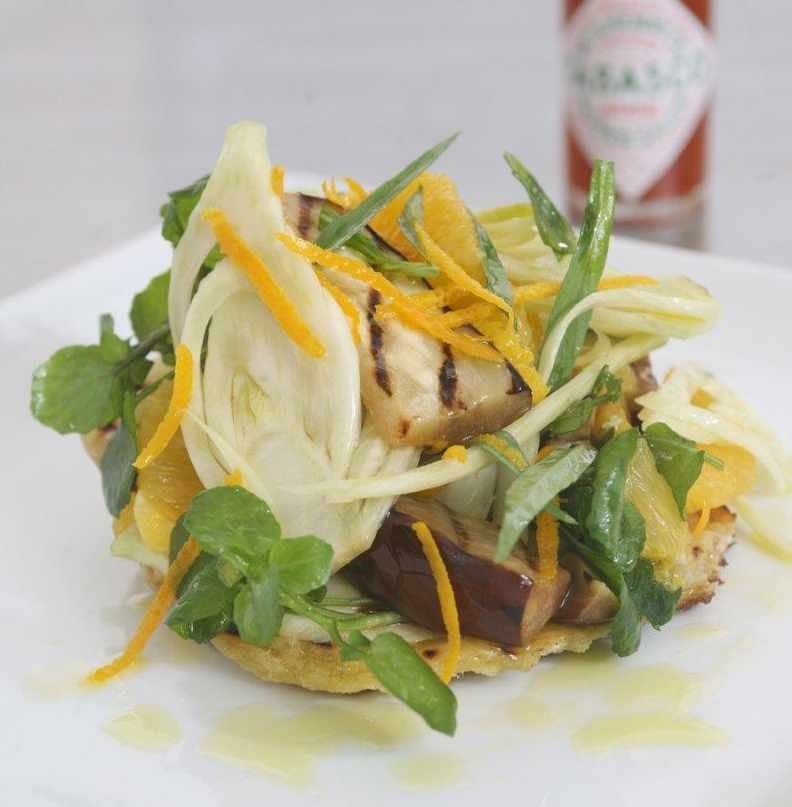 Ingredients:
2 aubergines, cut into wedges
2-3 tbsp vegetable oil
1/2 bulb fennel
1 orange, zested and juiced
1 orange, segmented
50ml sherry vinegar
175ml extra virgin olive oil
1 tbsp Tabasco Pepper Sauce
salt and freshly ground black pepper
1 tbsp fresh tarragon, chopped
small bunch of watercress
2 naan breads, cut into six 10cm-wide circles
method:
Shave the fennel using a mandolin and then mix in a bowl with the orange segments, orange juice and zest, vinegar, olive oil, Tabasco sauce and seasoning. Add the tarragon and stir well.
Rub the aubergine wedges all over with the vegetable oil and heat a griddle pan over a medium heat. When the pan is hot, add the aubergine wedges and grill for 1 to 1 1/2 minutes on each side or until golden-brown griddle marks appear on each side.
Add the aubergines to the salad and toss well. Split into six plates and serve on top of the naan bread circles.
Print Recipe
Did you make this recipe?
Share your creations by tagging @livegreenandgood on Instagram with the hashtag #livegreenandgood