Asparagus Aubergine Wraps with Romesco Sauce
Serves: 4
Ready in: 30 to 60 mins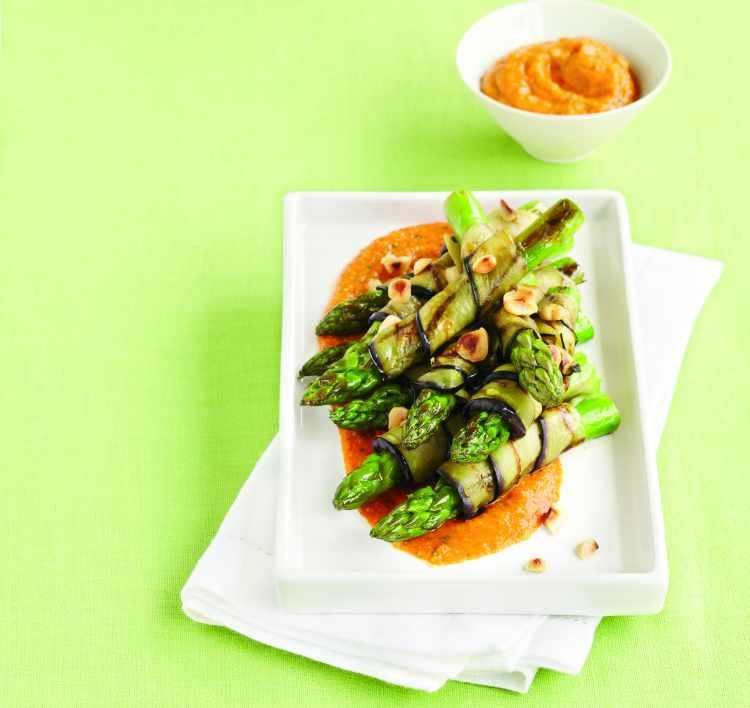 Ingredients:
12 asparagus spears, trimmed
1 large aubergine
1 tbsp extra virgin olive oil
zest of 1 lemon

[hd]For the sauce[/hd]
4 roasted red peppers
3 ripe tomatoes, roasted in a medium
oven for 15 minutes, skin removed
12 toasted blanched almonds
20 toasted blanched hazelnuts
4 garlic cloves, roasted and peeled
2 tbsp stale bread
1 dried chilli
1 tbsp sherry vinegar
1 tsp smoked paprika
handful of flat leaf parsley
5 tbsp extra virgin olive oil
salt and pepper
method:
Cut the aubergine lengthways in to slices, making the slices as thin as possible. Sprinkle with salt and leave to one side.
Place all the ingredients for the sauce in a food processor, reserving half of the hazelnuts for garnish and blend until smooth.
Using some kitchen roll, dab the aubergines removing any of the bitter juices that may have seeped out. Brush each aubergine slice with a little extra virgin olive oil. Griddle the aubergine slices on a hot griddle pan until slightly charred. Toss the asparagus spears in a little extra virgin olive oil and season. Cook in the hot griddle pan until slightly charred all over – this should only take about two minutes.
Wrap each asparagus spear in a griddled aubergine slice. Spoon 4-5 tbsp of the Romesco sauce onto each plate and top with four wrapped asparagus spears. Finish by sprinkling with the remaining toasted hazelnuts.
Print Recipe
www.charlottetolhurst.com
Did you make this recipe?
Share your creations by tagging @livegreenandgood on Instagram with the hashtag #livegreenandgood