The Slow Fashion Movement: The Brands Making Sustainable Choices
Live Green & Good looks at whether fast fashion and sustainability could ever go hand-in-hand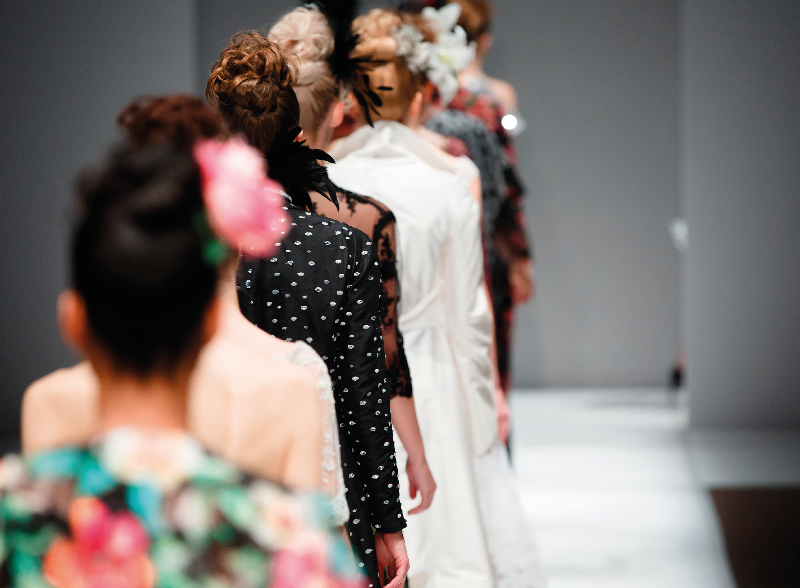 When Extinction Rebellion activists formed a human blockade during London Fashion Week in February 2019, it thrust the fashion industry into the spotlight. The issues surrounding our love of clothes are certainly no secret. The ethical and environmental impact was even harder to ignore as the group protested outside, while designers and businesses showcased yet another round of new collections inside.
But as awareness grows, the industry as a whole is beginning to take note of consumers' desire to shop more sustainably and understand who made their clothes. There's a growing emphasis on fair wages and safe environments for factory workers; cruelty-free clothing; less waste; and non-toxic dyes and fabrics.
For 2019, the British Fashion Council, which organises LFW, said it would focus on its 'Positive Fashion' initiative to encourage businesses to make decisions that will effect change. A huge part of this campaign focuses on sustainability. During the February show, the campaign was brought to life through a collaborative series with BBC Earth, featuring talks centred on the fashion industry's impact on the planet, and the tangible opportunities to drive mindful consumer behaviour as well as sustainable fashion choices.
What's more, 20 brands and businesses joined the 'SWITCH To Green' campaign; a collaboration between the British Fashion Council and Vivienne Westwood Fashion that brings industry insiders together to address the climate emergency. As part of the project, leaders are asked to move to green energy suppliers by 2020. Brands that are already part of the initiative include Marks & Spencer, Selfridges, Harvey Nichols, and Stella McCartney.
It's not only the UK that's stepping up, either: August 2019's Met Gala, hosted in New York, was held under the theme of sustainable fashion, showcasing designer creations made using recycled products, and hosting talks on the subject.
Since the last LFW show, more high-street brands have been making sustainable pledges, too. So, it's clear that changes are being implemented; but whether brands are reacting to consumer demand, aiming to improve their brand image, or attempting to reclaim profits, is anyone's guess.
In July 2019, big-name retailers like H&M and Primark voiced their support for a new All-Party Parliamentary Group (APPG) addressing fast fashion. The coalition, which is formed by MPs from all political backgrounds, seeks to make the UK's fashion sector more sustainable, addressing everything from supply chains to consumer behaviour. It all came about after MPs interrogated leading retailers – including Debenhams, Next, Missguided, and ASOS – about what steps they were taking to reduce the impact of the products they sell, as concerns grew about the fast fashion model of over-consumption and excessive waste.
Then, Zara announced it was taking new steps towards sustainability, including the goal to make all of its cotton, linen, and polyester sustainable by 2025. It's all in a bid to "play a transformational role in the industry", according to Pablo Isla, executive chairman of Zara's owner, Inditex (which also owns Bershka and Pull&Bear).
Could this be the start of a slow fashion revolution on the high street? Well, Zara certainly isn't the only high street retailer making changes. H&M has been plugging the eco-friendly angle for some time, attempting to be more open with its customers. Its conscious line focuses on sustainable materials, whilst also encouraging people to recycle their clothes in-store. The brand also shares stories from the factories where its clothing is made, and it seeks to educate fashion lovers about how to care for clothes so that they last. More recently, the brand's owner, H&M Group (which also includes Weekday, Cos and & Other Stories) set a goal to have 100% of materials and products recycled or sustainably-sourced by 2030.
Mango and Zara have signed up to the Better Cotton Initiative, with the former aiming to sustainably source 50% of its cotton by 2022. Even Prada is in on it: the company recently pledged to only use recycled nylon by 2021, and it also introduced a line of bags made from regenerated nylon known as ECONYL.
While these are all positive steps, many people fear that it's simply a case of greenwashing; companies taking advantage of the sustainability trend. Others fear that, while these are certainly steps in the right direction, they simply won't have enough of an impact. What it comes down to is that these high street chains release hundreds of new items every week, and contribute to thousands of tonnes of waste that end up in landfill. And according to the State of Fashion 2018 report, released by McKinsey & Company, the fashion industry will consume 25% of the world's carbon budget by 2050, making it the second-most polluting sector in the world, after oil.
While high street brands are making pledges in some areas of production, it's worth asking – is it enough to turn things around? When it comes to changing attitudes, consumers are clearly becoming more conscious. A recent survey by online retailer Patatam revealed that one in five British women feel guilty when purchasing new clothes, whilst almost two in three are happy to buy secondhand goods. As the British high street continues to decline, and online slow fashion retailers grow in popularity, it's becoming more evident that style and sustainability can come together.
More from Cruelty Free Beauty