Watermelon & Halloumi Baby Gem Cups
Serves: 8
Ready in: Under 15 Mins
Eco Friendly Gluten Free‏ Quick Make
If making as canapés for a large group, chop the griddled halloumi into smaller pieces and serve little spoonfuls of the salad in the smaller baby gem leaves too!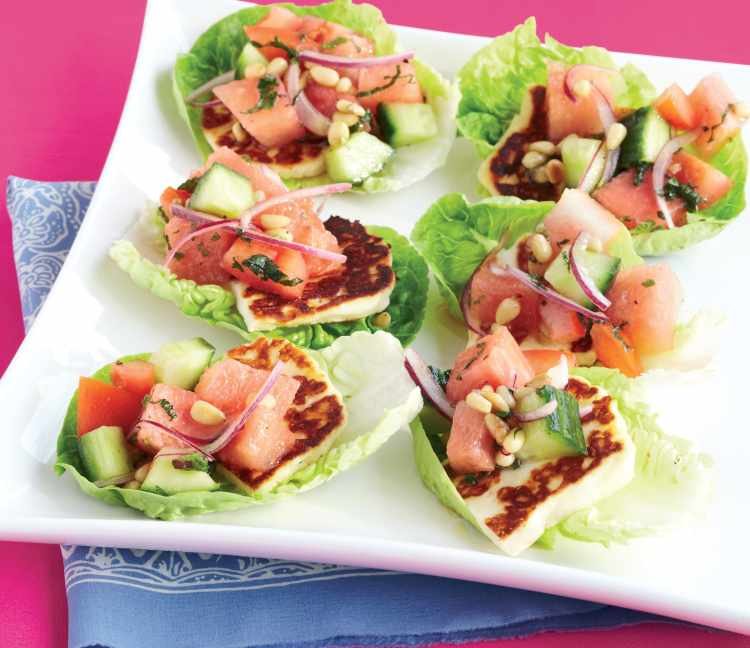 Ingredients:
3 baby gem lettuces
½ small water melon chopped into chunks, seeds removed
½ small red onion, finely sliced
4 tbsp shredded mint
100g cucumber, cut into chunks
2 ripe tomatoes, deseeded and cubed
2 tbsp pinenuts
250g block of vegetarian halloumi cheese, sliced into 8 pieces

[hd]For the dressing[/hd]
50ml white wine cider vinegar or lime juice
150ml extra virgin olive oil
1 tsp honey
salt and pepper
method:
First, toast the pinenuts. Warm a dry, heavy based frying pan to a medium heat. Throw in the pine nuts and heat through. Shake regularly so that they colour all over. When they reach a deep golden colour (which doesn't take long at all) remove from the pan and set aside. Keep a close eye on them while cooking as they do burn easily.
Seperate the baby gem lettuces into individual leaves using the larger outer leaves rather than the smaller internal ones. Arrange eight leaves on a large serving platter.
In a large bowl mix together the watermelon, onion, tomato, cucumber, mint and toasted pinenuts.
Whisk together the dressing ingredients, pour over the watermelon mixture and toss well. Griddle the halloumi slices on a griddle pan or BBQ for about 30 seconds on each side or until golden griddle lines appear.
Place a slice of halloumi cheese in each baby gem leaf and then spoon in the watermelon salad. Reserve the leftover dressing from the bottom of the bowl for later – it's too tasty to waste. Serve the cups as canapés or two per person as an unusual starter.
Print Recipe
www.charlottetolhurst.com
Did you make this recipe?
Share your creations by tagging @livegreenandgood on Instagram with the hashtag #livegreenandgood